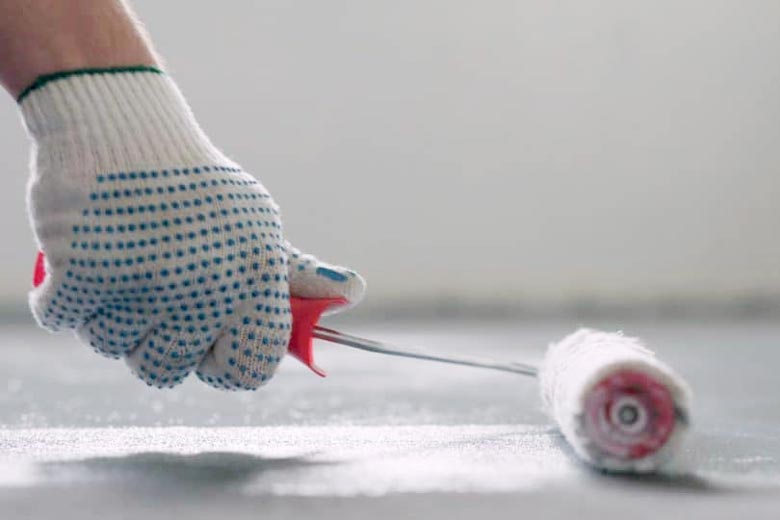 No matter where it is or what your concrete slab looks like, a concrete sealer is a must. It protects the concrete from dust, debris, cracking, deicing salts, and other forms of decay.
Sealers allow for a topcoat that enhances the life, durability, and strength of the concrete. It also increases the physical appearance of the concrete and allows for a beautiful surface.
Here is a list of 11 different sealers that have been deemed successful and helpful, and below are a few mistakes that should be avoided as you think about sealing your concrete!
Foundation Armor AR350 is a professional grade 10% acrylic-based sealer. It is a film-forming sealer, which means it provides a physical layer atop the concrete that protects it.
It is rated number one by various sources and provides lasting protection to concrete and stone surfaces.
Depending on its placement, it usually lasts for 2 to 5 years before the need to reseal. It can also be purchased in 14 different color variations, including gray, red, white, and buff.
Non-yellowing
Breathable
UV resistant
Lasting low gloss finish
Durable
Reduces salt damage
Protects against the cycle of freezing and thawing
Reduces cracking, spalling, pitting
Brightens faded surfaces
Can be used both indoors and outdoors
Provides a satin sheen or wet look
EnduraSeal is a 100% acrylic based sealer. It normally comes clear and is lower in cost than most other competitors. One gallon covers up to 300 square feet and can be used as a sealer on a variety of surfaces.
Low odor
Non-yellowing
Wet look
Highly durable
Lower cost
Protective against salts, oil, and grease
Foundation Armor SX35000 is a silane-siloxane based sealer. This means it penetrates deep into the surface of the concrete, not creating a literal layer, but rather protecting each concrete pore.
Due to this, it allows your concrete to maintain a natural unsealed look while at the same time maintaining protection. It can be purchased in a 5-gallon pail.
It is recommended to apply two coats and it can last up to 10 years.
Resists the cycle of freezing and thawing
Protects from deicing salts
Combats efflorescence
Does not peel, flake, fade, or yellow
Stops the concrete from absorbing water
Non-slip
Water-based
Siloxa-Tek 8500 is an industrial-grade water-based concrete sealer. It is silane and siloxane-based, meaning it will penetrate the surface and not leave a film layer.
It is mainly used on outdoor surfaces and can be used on concrete, bricks, and masonry. This one is a concentrate which is sold in one-gallon bottles. When mixed with 4 gallons of distilled water, you get 5 gallons of ready-to-use sealer.
If you don't want to mix yourself, you can also purchase this sealer as ready to use in a one-gallon jug.
Protects surface from moisture and abrasions
Resists the impact of salts and chlorides
One gallon ready to use sealer offers 100-400 square feet of coverage
Works well on surfaces that are driven on and well-used
Dries in about 6 hours
ToughCrete is a penetrating concrete sealer. It is a great sealer because of its many benefits and uses. It has a clear finish that does not leave much of a wet look.
Environmentally friendly
Department of Transportation (DOT) approved
Non-flammable
One gallon covers 150 to 250 square feet
Lifetime guarantee
Can be used on vertical surfaces
Cures in less than 36 hours
Rain Guard is an acrylic urethane cement sealer that can be used indoors or outdoors and on various surfaces, including wood and stone.
It is often used for automotive surfaces and can be purchased online. It is sold in either 1- or 5- gallon jugs.
Protects from water, oil, and other chemical spills
Resists UV light damage
Protects against fading and yellowing
Has a slight wetting effect
Ready to use, no mixing
Protective against tire marks and other automotive associated problems
SuperSeal 2000 is an acrylic-based sealer. It can be used on concrete, tiles, and other overlays.
Non-yellowing
Can be used on a variety of surfaces
Matte finish and wet look
Enhances color
Protects from stains
Protects from UV light
Interior and Exterior use
SureCrete XS-327 is a polyurethane-based sealer that is used in kitchens. It requires you to mix two components but is quick to apply, dry, and cure. It covers about 100 square feet.
Excellent heat resistance, and can withstand up to 300 degrees Fahrenheit
Food safe
Creates a barrier against stains and oil
Great for counters or tabletops
Used in commercial kitchens
Concrete Sealers USA PS101 is a siliconate solution that penetrates deep into the concrete to protect each pore by creating a membrane.
No bad smell
Reduces risks associated with deicing salts and UV damage
Resists dirt build-up and stain
Reduces scaling
Makes concrete easier to clean
Reduces risks associated with freezing and thawing cycles
Black Diamond Wet Look Stone Sealer is a water-based sealer that can be used on a variety of surfaces excluding marble and granite. It can be sprayed, brushed, or rolled on.
Can be used on slate, concrete, rock, and bricks
100 percent money-back guarantee
After applied, concrete cleans well with water
UV resistant
Chemical resistant
Shinny and Light Gloss
Doesn't significantly change the shade or color of concrete
Rocklinite Labs Tuff Duck is a film-forming concrete sealer that reduces the porous nature of the concrete. It is also food safe and does not produce a great deal of odor.
It is quick-drying and can be ready for the next coat in as quickly as one hour. It is mainly used for countertops. About 45-60 square ft coverage for every 750 ml bottle.
Penetrates deep into the concrete, but also creates a top film
Food safe
Low odor
A Few Mistakes To Avoid
Similar to choosing a concrete sealer, sealing concrete can be quite a task. It is an essential step in the pouring and life of your concrete and should be done well.
It can be done yourself but be sure not to make some of these common mistakes.
Professionals can also do an amazing job at sealing concrete, making the process less cumbersome to you or those around you.
Don't Miss Any Dirt!
When sealing concrete, you must have a clean and dry surface. If your concrete is newly poured or has been there for years, it should be sprayed off with water and scrubbed.
If there are any cracks or holes, those should be repaired before you start sealing. Stains are also an important thing to remove.
Removing stains can be a simple process if they are not too deep. Usually, you can just scrub with water or soap, or grab an acidic solution. Remember that whatever is not removed before the sealer is applied will still be visible.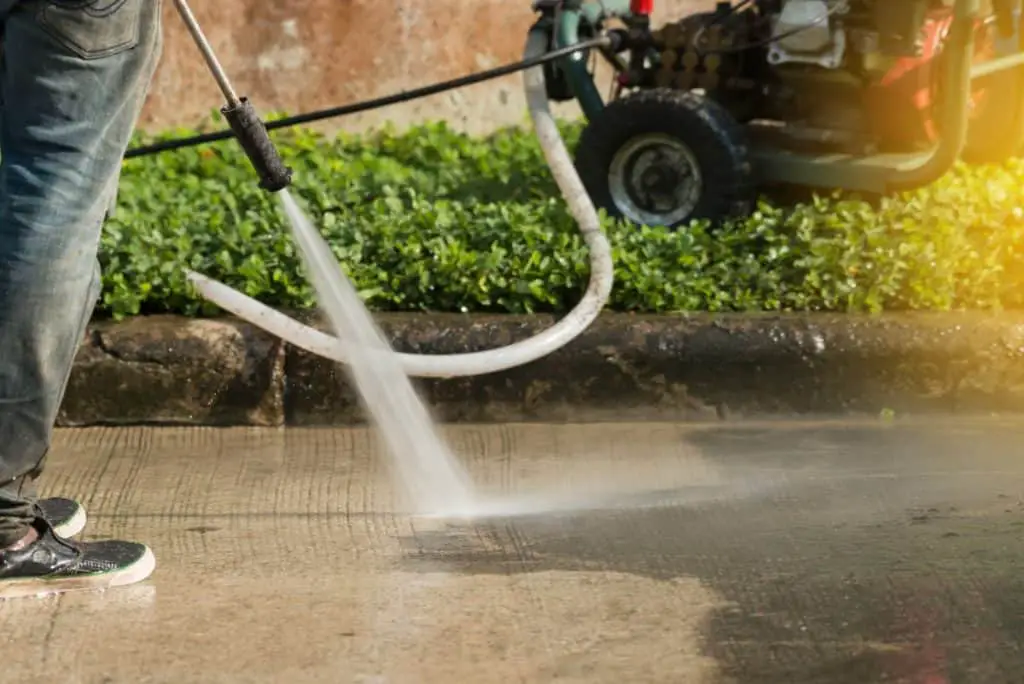 Don't Forget To Do Your Research
Oftentimes, it is easier just to grab the first sealer we come across but be sure to look at the characteristics of each sealer and ensure it is what you are looking for.
For example, you would want to make sure the sealer was food grade if you were doing a kitchen countertop or a really glossy finish for a ballet studio floor.
Also, be sure that the sealer you choose can be used indoors or outdoors dependence upon your location. Ask yourself what you want and search for the best sealer for you!
Avoid Unevenness
It is really easy when pouring or spraying on the sealer to get it thicker in one spot than another. Knowing this will help as you apply it.
Uneven concrete will aid in an uneven distribution of sealer, which is why you want to fix those problems before sealing the concrete. The thicker areas will not dry as quickly as they are supposed to. It is sort of a race against the clock.
Don't Apply The Second Coat Too Quickly!
If the second coat of sealer is applied before the first coat has had time to dry, you could encounter surface bubbles. Another reason this happens is increased temperature and direct sunlight.
To combat this, try to apply sealer when it is around 50 or 60 degrees outside, and be sure to wait until the first coat of sealer is completely penetrated and dry before you do the second coat.
Consistency Is Key
Applying sealant too often, or not often enough will leave your concrete in danger. Applying a sealant too often is a waste of money because your concrete is already protected, but not applying it enough leaves your concrete susceptible to all the weather and wear conditions.
It is recommended that you re-seal your concrete every 3 years unless you live in a place where freezing and thawing are common, then every 2 years would be more helpful.
Also, be sure the overall thickness of your sealer is not too much or else it will cause drying problems and decrease its overall effectiveness.