With the increasing need for buildings, sidewalks, roads, and more in this growing world, concrete workers are in demand. Even though manual work can be taxing on one's body, that doesn't mean that it isn't a worthwhile profession. A career in concrete work can be one worth the work because of the earnings you will be able to take home.
The average salary of a concrete worker is $46,074 a year. Concrete workers are paid on average $21.61 per hour, with the lowest-paid jobs ranging from $10-15 and the highest paid jobs being $32-45. The amount a worker is paid depends on prior experience and training in the concrete field.
It is helpful to understand the responsibilities and requirements of a concrete worker that comes with the pay check.
What Does A Concrete Worker Do?
Tasks of a Concrete Worker
It might seem straightforward that a concrete worker is tasked to work with concrete for their job, but they do more than that.
Concrete workers are expected to do a multitude of jobs and perform many tasks that have to do with concrete and other materials they use for the assignment at hand.
Here are examples of tasks expected of a concrete worker to complete if they are hired.
Concrete Worker in Bargersville, IN:
Need Foremen, Finishers, Form Carpenters, and Finishers
Forming, Pouring, finishing
Flat work, site work, walls, curbs, etc…
Layout including building lines, elevations, wall, and site layout;
Know how to use a transit/laser;
Form work for walls, floors, columns, precast erection, etc;
Forming slab on grade, walls, stairs, structural metal deck, etc;
Experienced in setting anchor bolts;
Experienced in Peri/Symons panels setting and wrecking;
Knowledgeable of different mix designs;
Safety including scaffold systems, shoring, weather protection, and installation of fall protection systems;
Misc. administrative duties as assigned
Concrete Laborer in New Haven, CT:
Concrete Bridge Repairs
General Bridge Maintenance
Joint and Crack Seal Repairs
Concrete Worker in Columbus, KS:
Patching of concrete
Placement of vertical and/or horizontal concrete
Spread, vibrate, screed, and float concrete to ensure that concrete is compacted to desired consistency and surface is finished to specified uniformity and smoothness.
Handling of concrete buckets
Use of power tools such as mechanical vibrator and operating motorized equipment
Standing or walking on narrow work surfaces at considerable heights above the ground
Ability to work without close supervision once directed on task.
Obeys and follows all safety rules on the job site and encourages others to do the same.
Maintains a good relationship with co-workers and works well with others to accomplish a task.
Qualifications
Experience Needed
Although some concrete companies hire entry-level people, most desire someone who has some type of experience. Concrete workers use heavy machinery that can be dangerous to operate, so many companies want someone who knows how to operate them to reduce potential hazards.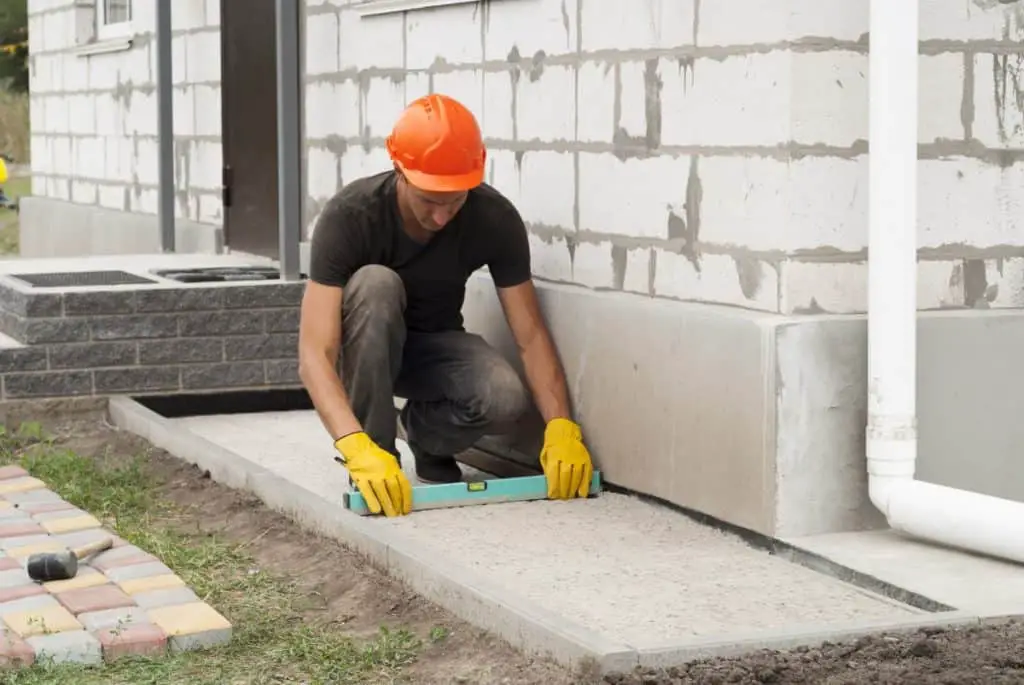 Here is a list of examples of qualifications that companies who are looking to hire concrete workers are looking for. Depending on the job listing and the entry-level of the job, these can vary.:
Concrete Worker in Rexburg, ID:
High school diploma.
3-year apprenticeship under journeymen workers preferred.
2,000 hours of hands-on experience preferred.
Ability to perform strenuous tasks with your hands.
Ability to kneel, bend, and lift heavy materials.
Ability to measure accurately and read specifications.
Concrete Finisher/Laborer in Rigby, ID:
Concrete Finishing: 1 year (Preferred)
Concrete Form Setter/Finisher in Blythe, CA:
2+ years of experience working on a construction concrete crew
Required to have both concrete finishing and form setting experience
Knowledge of ADA guidelines & interpreting blueprints is a plus
Ability to lift heavy objects 50+ lbs.
Walking/Standing/Bending for long periods of time
Perform strenuous physical labor in outdoor elements
Open to travel in Southern, CA (current work is in Blythe, CA)
Must be able to work weekends and/or overtime when needed
Must be able to speak, read, and write in English
Required to have a valid Driver's License
Required to pass pre-employment drug test/physical/background check
More Qualifications Equals More Money
Just like with any job, more qualifications or work experience means you get more money. The job of a concrete worker is entirely based on skill; either you know what you are doing or you don't.
Everyone needs to start somewhere, but just be aware that beginners in this trade are usually paid less due to their inexperience in the field.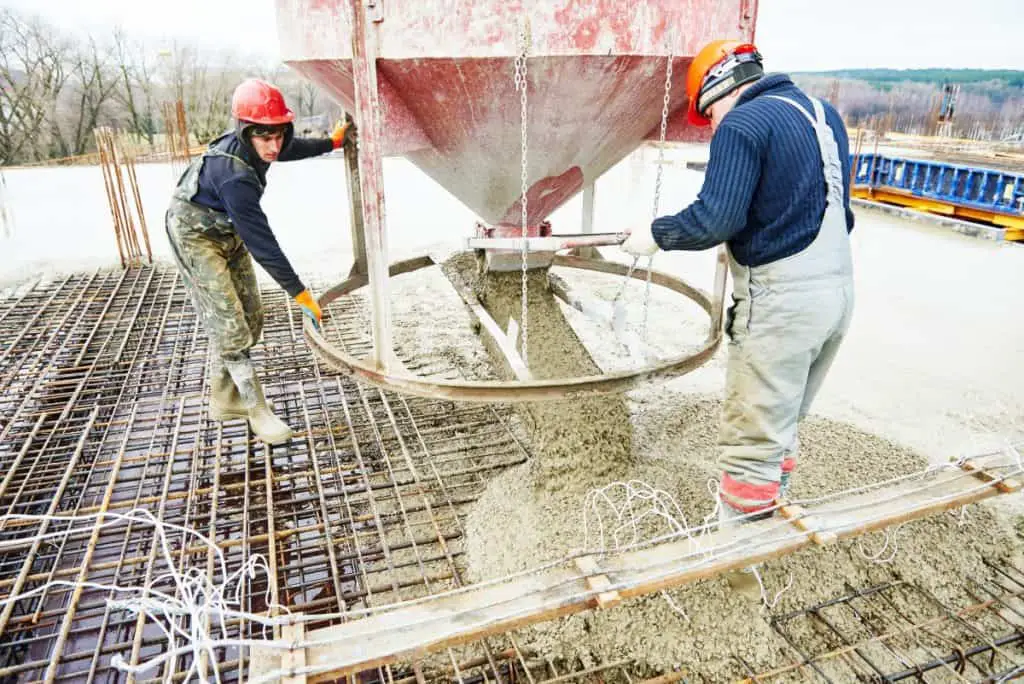 The more experience you have in this field usually means you have more skill in the work and the process it takes to pour and work with concrete.
The more time you have spent working with concrete usually will lead to you having more skills, which leads to more money.
The beginning wages of concrete work can be low, but over time they increase until you are making around $20 an hour and more. It is a high reward job if you put in the effort to learn the skills to be qualified enough to make the big money.
Sample Jobs
$13-23 an hour. "We are a large concrete construction company looking to hire skilled workers with construction or concrete experience. We are looking for hard working applicants to grow within our company, we have opportunities for leadership and supervisory positions. Pay is performance based, motivated skilled workers may advance quickly, we also offer the opportunity to earn production bonuses. We are looking for full time permanent employees who are dedicated and dependable. Winter work is available for individuals meeting this criteria. We have opportunities for beginning laborers as well, we will train the right individuals, if you are hands on, hard working, dependable and willing to learn." Schedule: Day shift Monday to Friday
Experience: Concrete Finishing: 1 year (Preferred)
This Company Describes Its Culture as, detail-oriented — quality and precision-focused. Stable — traditional, stable, strong processes. People-oriented — supportive and fairness-focused. Team-oriented — cooperative and collaborative. Source
$18-30 an hour. "Are you a concrete worker looking to have a role in continuing to raise the bar for the construction industry? If the answer is yes, we'd love to hear from you. Our team of craftspeople are some of the finest around bringing their skills, efficiencies and professionalism to building one-of-a-kind homes in some of the most beautiful locations in northern Idaho and eastern Washington. They are also involved in placing wire mesh, occasionally preparing, placing and pouring appropriate sand and cement mixtures and rough leveling of concrete. They bend, form, tie and install rebar. They spread, level and smooth concrete using rakes, shovels and trowels. They apply fine concrete finishes by floating, troweling, edging and brushing according to plan specifications. Depending on level of proficiency, they may be responsible for interpreting blueprints and reading survey stakes to establish grade and estimating volume of concrete required for specific jobs. Ideal candidate is well-versed in the standard methods, materials, tools and equipment used in concrete construction and maintenance; understands the occupational hazards applicable to the work and adheres to OSHA and Edwards Smith Construction safety requirements; is able to understand and follow oral and written instructions; is able to read blueprints and make simple calculations in order to read survey stakes and calculate areas and volumes; is able to withstand extreme weather conditions; and is skilled in the use and care of hand and small power tools associated with the work." Benefits: Dental Insurance and Health Insurance. Schedule: 8 Hour Shift, Day shift, Monday to Friday and Overtime.
Experience: Concrete: 2 years (Preferred)
This Job Is Ideal for Someone Who Is: Dependable — more reliable than spontaneous. Adaptable/flexible — enjoys doing work that requires frequent shifts in direction. Detail-oriented — would rather focus on the details of work than the bigger picture. Source