The art of making a surface look like something else, also known as faux finishing, is one of the ingenious innovations in interior and exterior design. This technique is timeless – it remains a hit despite having been in use for centuries. Faux concrete is just one aspect of this type of finishing, and unlike real concrete, its composition is quite interesting.
Faux concrete is made of calcium carbonate powder, different colors of acrylic paint, and a sealer. To prepare faux concrete wall paint, simply mix the darkest paint and add some calcium carbonate. Next, mix a medium or lighter color and once it dries up, add a layer of acrylic medium.
The rest of this article will explain faux concrete's benefits, how to create faux concrete wall paint, and the best faux concrete wall panels on the market. Read on for comprehensive details on these aspects.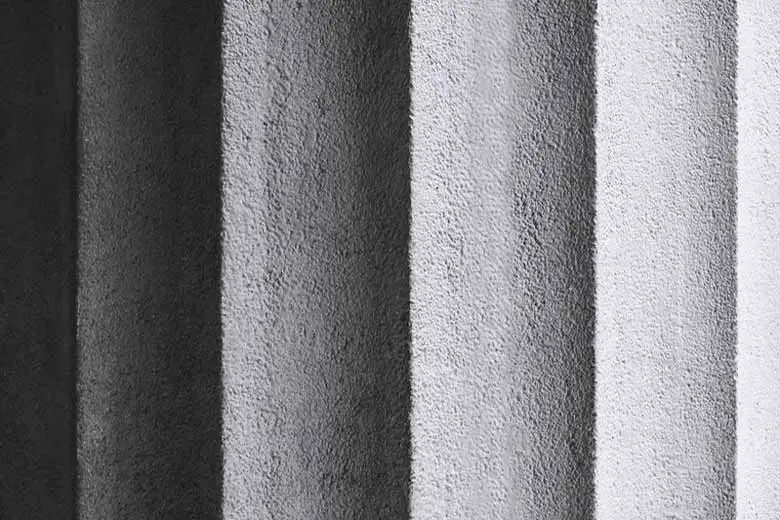 Why Faux Concrete?
If you're new to faux concrete, you're probably wondering: Why would I imitate concrete when I can use real concrete slabs?
The answer to this question lies in the advantages of faux finishing.
Here are some of the pronounced advantages of faux concrete paint:
You Can Mimic Different Colors
For a second, imagine having wet concrete, in your favorite color, and for decades.
That's precisely what faux concrete paint offers – an endless possibility of colors. With this paint, you can mimic a variety of colors. Besides, you can use it to create impressions of old slabs with bare reinforcement iron rods that are rusty.
In a nutshell, you can redefine your living space with faux finishing.
Faux Concrete Is Versatile
Suppose someone asked what makes a faux concrete finishing tick for me. In that case, I'd definitely speak of its versatility – just as the definition suggests, you can apply this wall paint in any room, regardless of whether it's made of wood or brick.
Faux finishing enables you to emphasize or hide your home's interior architectural complexities, depending on your preferences.
The beauty is that your rooms need not be built with concrete slabs – the paint is made to be applied on any interior to create an impressive look that complements your floor finishing.
If you have an open layout space, you can add some aesthetic appeal by designing an accent wall with a fireplace and complementing it with your TV or artwork, whichever suits your taste. If you're daring enough, you could apply faux concrete paint to partition different zones in your room.
Suppose you have a home office or study. In that case, you can use the paint to create an impression of a shading background with the elements on it highlighted.
Emphasizing Style
Faux concrete wall paint allows you to express yourself through your interior design.
With faux finishing, you can explore a variety of styles.
Suppose you chose the conventional style of using real concrete. In that case, it becomes hard to combine different colors and materials to give your spaces a unique look. Besides, real concrete is susceptible to moisture.
However, with faux concrete wall paint, you can mix different colors and materials and redesign spaces with high moisture and steam content, such as your bathroom.
How To Create a Faux Concrete Paint Finish
The benefits of faux concrete paint finish are fascinating, right?
I guess you're now looking forward to giving your space that unique, elegant finish. Well, you don't have to break the bank to do that!
Here's what you'll need to give your room a faux finishing:
Calcium carbonate powder
Acrylic paint (use different colors for better results)
Brushes (the older, the better)
A sealer, preferably this Liquitex Matte Medium from Amazon.com – It's easy to use, doesn't require stirring and flows smoothly.
The surface or object you need to "transform."
Once you have these supplies ready, it's time to get your hands dirty!
Here are the steps to follow when making faux concrete paint:
Mix the first color of paint. Give the surface or object "transformed" a scuffle using rough sandpaper. After that, using old scrub brushes, mix the first color (preferably the darkest shade), and add a good helping of calcium carbonate. Ensure the mixture is thick to add some texture.
Add a second tone. Mix another tone of the first color, this time medium or lighter. Add calcium carbonate and add some of the second colors to the mix (this should be a medium or lighter color). To give the paint some concrete variation, dub on using your scrub brush. The mixture should look a bit rough and mottled. Once dry, add a layer of acrylic Matt Medium to prevent the texture from crumbling off.
Add more texture. You can use a toothpick to add the surface to tiny holes or bubbles. This mimics the imperfections you often spot on concrete.
The following YouTube video explains how you can make a faux concrete wall within minutes:
ProTip: You can make your own chalk paint using eggshells. This article explains the process in greater detail.
What About Faux Concrete Panels?
Suppose you have a busy schedule but would like to give your interior that faux finishing. In that case, you'll need a solution you can assemble quickly, and faux concrete panels are made for just that!
Here are 4 of the best faux concrete panels you can try out:
Polyurethane Concrete Wall panel is designed for easy assembly. Installation is a simple cut, paste, fix, and retouch process. The panel is lightweight and chemically inert, meaning it doesn't corrode.
Adjustment is fast and easy, whether on columns, corners, or flat surfaces.
It provides a perfect faux concrete finish – you can create that desired mood for your living space. It's also paintable and adaptable.
The New York Faux Concrete Panel does not compromise on safety. This fire-resistant pane is easy to install – whether you're a professional or a first-timer, you'll get spectacular results. You only need a screwdriver, screws, an adhesive, and a saw to complete the job!
The panel is designed for both residential and commercial applications. Rest assured, you're getting the best!
This panel comes with elegant, easy-to-install tiles.
They give a great faux finishing to your kitchen, bathroom, or living room – the possibilities are endless.
This faux concrete wall panel measures 25.6 in. x 14.8 in. x 5 mm. Because of that, it covers a large surface area within a short time, meaning quicker installation.
Made of durable PVC, this panel is resistant to moisture and UV.
Installing this panel is kid stuff – simply remove the protective foil, unfold the panel, trim it, and place it on the wall – that's it!
It creates a stunning effect on your living space without leaving sticky leftovers.
The construction is waterproof, odorless, and durable.
Final Thought
Faux concrete is one of the concepts that have redefined the design landscape. Composed of calcium carbonate powder, acrylic paint, and a sealer, this innovation allows you to express yourself through your home's interior and exterior design.
Versatility defines faux concrete – it not only allows you to select your spaces' appearances from a variety of colors but also has broad applications. You can virtually improve the aesthetic appeal of all objects using this innovation.
That's not all! If you can't make faux concrete paint, you can use wall panels to add that visual appeal to your spaces.