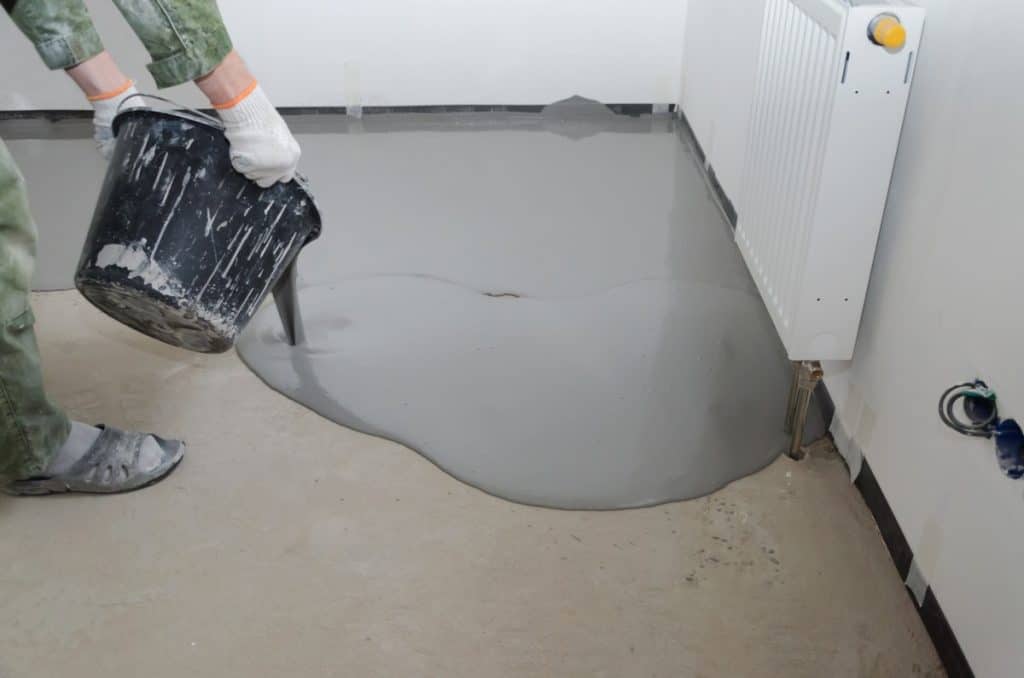 Epoxy paints are durable and enhance the look of concrete. They last a long time, require little to no maintenance, help fill in cracks, and make the concrete resistant to chemicals, stains, scuffs, and other damage. Knowing the glossiness, durability, coverage, price, protection, application, and time needed for each epoxy kit will be great tools while deciding which kit will work the best.
Everyone is looking for a long-lasting option for their concrete surface. Durability is essential when deciding on an option for the concrete. Through research, along with trial and error, we've found seven epoxy floor kits which are top reviewed and durable.
The Epoxy Shield garage floor coating is a 2-part epoxy formula and covers an area of 500 square feet. It is a trusted brand that is well known for its great resistance to oil and spills prominent in car garages. It protects from oil, antifreeze, lubricant, and many other harsh chemicals and oils.
Normally, it comes in a 2 1/2 garage kit covering. It comes in a gray or tan color. It is mainly used indoors and has a professional-looking finish. It comes with 2 parts of the epoxy, concrete etcher, decorate color chips, and an instruction sheet.
It takes about 24 hours for the epoxy to dry. After these 24 hours, people can walk on the floor with no problems. It is suggested not to drive on it for at least 72 hours. It gives a subtle shine on all surfaces and is a strong adhesive, while not giving off too much of an odor.
This Epoxy kit is a great DIY kit with clear instructions and pour-able bottles. It is known for its crystal-clear look and is mostly used indoors. Just as Rust-Oleum, the brand has been on the market for a long time and has been given very high reviews claiming it to be a great quality product for a fair price.
The kit comes with 2-gallon sized jugs, rather than quartz. It comes with a gallon of the base resin and a gallon of the curing agent. It should also be noted that this product is great for adding epoxy of color pigments. It can be used with wood, glass, or concrete.
It cures in 30 minutes, with minimal bubbling and a clear finish. It comes with clear instructions to follow and is ready to be mixed and used as soon as it arrives. Although, it has been known to dry too quickly in hot temperatures and is much more manageable inside than out.
Valspar's Premium Clear Epoxy Kit is another great epoxy kit. It is well known for its resistance to hot tires and other forms of heat. It is also great for cleaning and sprucing up old garage floors that have become cracked and damp. It is a very high-performance glass finish.
It comes in a one-gallon jug and can usually floor a 1 car garage. It is resistant to oils and chemicals while providing a beautiful and durable finish. It can be used on concrete that has previously been coated or fresh concrete, and it adheres great to both surfaces.
It can be found in a gray or tan color as well as the clear. It provides protection against peeling and flaking. It comes with easy step-by-step instructions and it covers around 160 square feet.
One of the great things about Coloured Epoxies is that it comes with 18 color options, including just a regular clear glossy finish. It is a two-part epoxy coating and covers about 125 to 170 square feet per gallon. It can be used on plywood and concrete.
It is also well known for its protection against molds and fungi as well as other chemicals and water. It doesn't allow for much order and it takes 8 to 24 hours to dry depending on the thickness. It is strong and resistant to UV radiation.
The kit comes with three gallons and is quite budget friendly. It is made with 100 percent solids and makes the concrete look vibrant and beautiful.
Rust-Oleum's basement floor kit comes with a stir stick, two cans of epoxy, decorative chips, and instructions. For a single application, the kit will cover about 250 square feet. It comes in a light grey or tan color and is very sturdy and durable.
This works not only on basement floors but on all surfaces that may need to gain an increased physical appearance. It provides for a beautiful satin finish that transforms a regular floor into something much better. It cleans up well with soap and water.
It is a great DIY project because it is easy to clean and maintain. It gives off very little odor and does not require you to use two coats. It can only be used inside.
Super Coat Waterborne Urethane Glaze is a companion to the use of an epoxy floor paint: not quite constituting a kit but it's one that is highly effective and helpful in a variety of situations. It is water-based and used mostly as a top-coat. Its main job as a top-coat is to reduce the problem of oxidization, where the paint begins to turn yellow as a result of air and water. It also protects against chemical damage while also being stain resistant.
It covers 250 square feet and comes with a .75 gallon of epoxy and a .25 gallon of the hardener. It needs to be laid 12 hours after you have painted the surface with epoxy paint. Normally, it is applied with a roller.
It takes 24 to 72 hours for the coat to dry. It also comes with a cleaner and an aggregate to sprinkle on. It is great for garages that get lots of use from heavy machines or lots of use.
The Epoxy Coat kit comes with all the necessary items you need to paint and create a high-quality surface. It is not prone to shrinkage and covers up rough spots of old concrete. It is made with 100% solids. You will need proper air circulation when applying it.
The kit comes with a lot of helpful tools including rags, a roller, mixing bucket, paint stirrer, 3 gallons of paint, slip-resistant crystals, a squeegee, and a cleaner. It covers about 500 square feet, which is quite a lot. It is very durable and strong.
It does do a great job! It comes in a variety of colors like black, clear, gray, or tan. It takes about 12 hours to dry and then you can start walking on it. It also dries really quickly and is not recommended on floors with heavy use.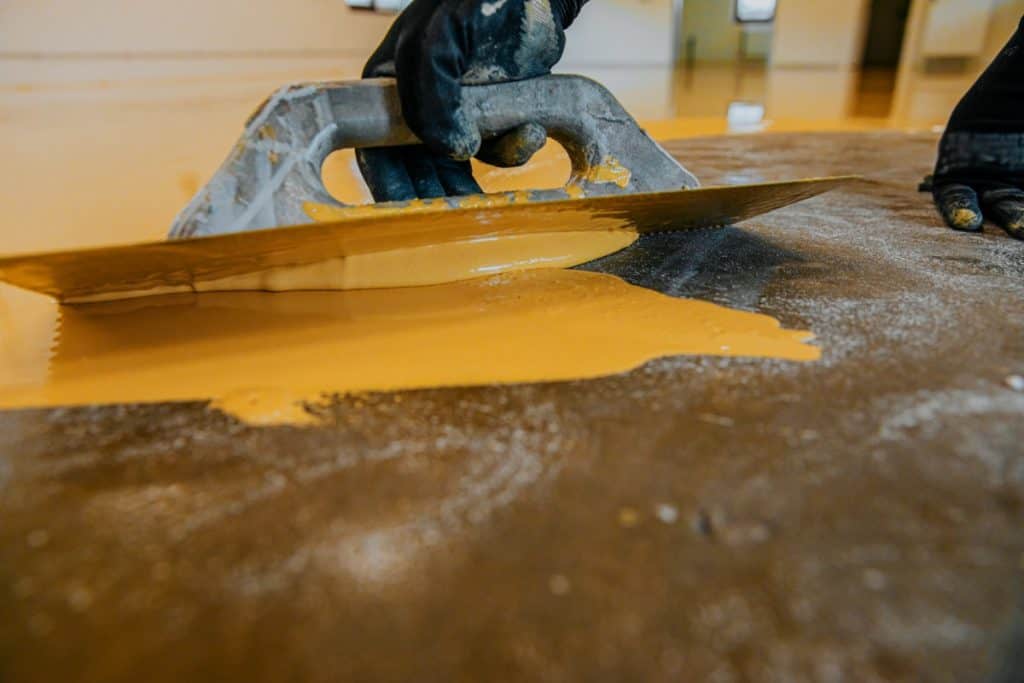 Benefits of an Epoxy Coated Surface
While there are a variety of benefits that come along with investing and installing an epoxy floor, there are a few which become main factors in the decision process. Epoxy is best because of its:
Protection – Oil, grease, lubricants, water, salt, and other chemicals are bound to come into contact with your surface at one point or another, especially if it is a garage floor. Epoxy is much easier to clean and less likely to stain than concrete. It also prevents cracks from further forming and keeps dust and debris from collecting and damaging the concrete.
Resistance to Damage – Dragging a box across the floor, or dropping a dumbbell on the ground no longer present as big of a problem cause epoxy is resistant to the impacts of these, and the hard glossy finish is easily restored to its original beauty.
Aesthetic Value – Immediately after applying this to any flooring, it will increase its value. It not only can allow for a great glossy looking finish but offers a variety of options so you can make it unique. There are different textures and colors to choose from. The glossy look also makes the light within the room more bright and happy.
Maintenance – Easily, the paint can last for up to 10 years, and be something that doesn't require much clean up throughout the entire time. Sweeping and mopping would be the only real clean up jobs required. It is protected from extreme weather changes, further cracking, and other problems that can come from a regular concrete surface.
When compared to the overall cost vs the durability and effectiveness of epoxy, it is a great option for concrete floors and surfaces that need a touch-up and extra protection. These floors offer a vibrant option that repels germs and messes, and they last longer than most other types of flooring. It gives you a lot of variety and strength! Source