A pool in the middle of a dirt patch doesn't call for a pleasing afternoon, but that can easily be fixed and made beautiful by installing a concrete deck around your pool.
Installing a concrete pool deck around your pool costs an average of $7,000 dollars. Concrete is an average of $8 per square foot. Other costs including labor, installation, and personal touches must be added to the total price. The cost will go up with a more complex and intricate design.
Whether you're dreaming of a red, rough stone concrete to match the exterior of your home or a stark white, woody frame around the pool, concrete can be made to fit it! There are a variety of price factors to aid in, but stay tuned to learn about the details.
Factors that Affect the Price of Your Pool Deck
There are a few things to first consider that will affect your overall price. Once you get a feel of the things needed for your project, you will be able to get a more accurate quote from a professional.
The dimensions and size of your desired deck.
The size, shape, and curvature of your pool.
The slope of the area you wish to install it on.
The distance between where the project will take place and the contractor.
The current situation of your property, and the access to your property.
Any additional steps, shapes, or designs.
How Much Does a Concrete Pool Deck Cost?
When finally getting down to the details of your project, it can be helpful to know how much those important and personal details will add to your overall cost.
Your most simple option for a pool deck is basic concrete, with little or no color and texture added. Making it uniform across the board.
A simple concrete pool deck costs an average of 6 dollars per square foot. Overall with work, set up, and installation, your lowest cost can be an average of 6,000 dollars.
The next step up from gray and simple is to add some colors and texture. This allows the deck to be a bit more personal and contrasting in color.
A concrete pool deck including a different colored or textured border around the edges will cost about $10 per square foot. It often includes more than one color of concrete. Total, this type of job would be an average of $8,000
If you want a more customized pool deck it will of course cost you more. But it allows you to get a personal and decorative pool deck with multiple colors, borders, and textures.
A more personalized concrete pool deck that includes edging borders (and additional borders elsewhere), more colors, and textures could cost you close to 15 dollars per square foot and totals going from 10,000 dollars and upwards.
Read more: 11 Attractive and Clever Ideas for Concrete Pool Decking
Labor And Material Costs
We have already talked about the materials needed for the job. The concrete will cost an average of 6 to 15 dollars per square foot. For a 900 sq foot pool, that's about 5,400 dollars already.
Adding in the cost of labor can help you decide whether to learn the skill of deck pouring on your own, or finding a professional.
The cost to hire someone for a simple installation project can be as low as $1,000. On average, a customer spends about $4,000 for labor but can be up to $12,00 dependent upon the work needed.
Hiring a new, or highly experienced installer may also affect the price they charge.
It's wise to choose an experienced installer with a good reputation, even though it might cost you some more. There is a lot of things that could go wrong when installing a concrete pool deck so you shouldn't compromise with the expertise of the contractors.
The Cost of Stamped Or Precast Concrete
To add a bit more decorative personality to your concrete, a variety of stamping techniques are available.
Stamping concrete takes place when the concrete is still wet, making it a very custom job in need of a professional.
There are a variety of designs, including stone, slate, wood, brick, or rough stone appearances.
On average, a stamped concrete pool deck will cost between $12 and $25 per square foot including labor.
The more stamps and colors you add in are what raise the base price.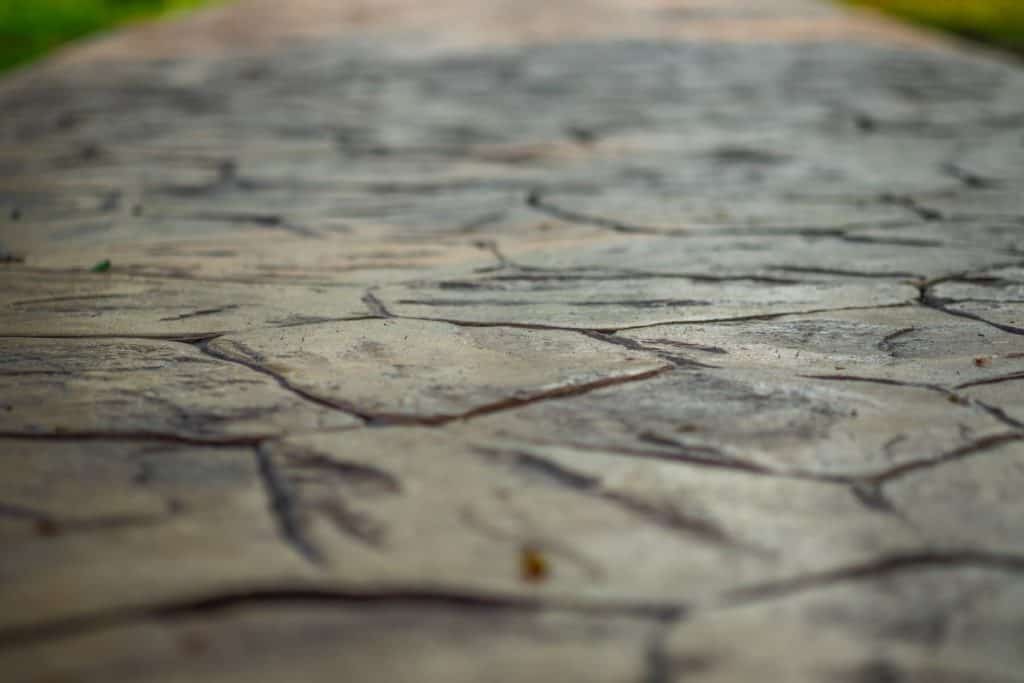 Precast concrete is not so customizable, but allows you the freedom of not having to mix and pour your own concrete.
While it may seem similar to laying pavers, it is a more solid approach because it can be laid in larger pieces.
It costs between $5 to $12 per square foot but doesn't include professional installation without additional charge.
Related Article: Pavers vs. Concrete: Which Is Better for a Pool Deck?
Hiring a Professional vs. DIY
DIY projects are all the rage lately, but it is important to weigh out your options.
A pool deck can be a hard task to accomplish on your own, the help of a professional could save you time (and money in the long run).
A great deal of your cost could come from this decision, so let's look into some pros and cons.
Pros of Hiring a Contractor
Quality – a professional will get the job done more quickly and effectively. He has all the needed equipment and time to make it very high quality.
Saves Time – While it may take you months between your family and job, hiring a professional will save you days, or even months.
Cons of Hiring a Contractor
More Expensive – hiring a professional will cost more money, with the materials and his labor, time, and skill.
Lack of Control – While they will do what you ask, you are not given the same freedom of choice you may have if you did it on your own.
Doing it yourself is less expensive and gives you the pride of such an accomplishment, while it is also very difficult and time-consuming.
Most people suggest a professional unless you have DIY skills in construction and concrete. Either way, it will at least cost you the materials and either your time or theirs.
A Cost Comparison of Different Kinds of Pool Decks
Concrete decks have proven to be incredibly effective around pools. They do not burn bare feet or make for a very slippery area when wet (if done the right way). They can easily be matched to your nearby home, or given their own theme through a variety of colors and textures. While this holds true, other deck options and their costs are considerations.
| Type | Cost |
| --- | --- |
| Stone Paver Deck | As low as $13, up to $18 per square foot. |
| Wood Deck | Anywhere from $15 to 30$ per square foot. |
| Rubber Deck | An average of $16 per square foot. |
| Tile Deck | As low as $1, ranging up to $100 per square foot. |
| Concrete Deck | An average of $8 per square foot. |
Stone paver decks have the capacity to be arranged in a unique pattern, but often allow increased erosion or plant growth between the bricks.
A wood deck can be beautiful but must be carefully stained and wear quickly.
Tile decks offer a variety of options, from thin plain tile to a more elegant look. Overall, each offers its own pros and cons, to aid in your decision.
Additional Pool Deck Tips & Costs to Keep in Mind
While these are your basic cost, you can always add more!
Pool Coping is another cost to consider. This is the small ledge of concrete that hangs over your pool, to add an appealing touch and a way to hide an automated pool cover. It will cost anywhere from $30 to $50 dollars per linear foot to install.
To also have your contractor take away pre-existing coping will add around $400 dollars. The price though depends on the size and scope of the coping.
An additional charge will also be put into place to take out existing concrete. Normally about $5 to $15 dollars can be added per square food. "That includes the actual removal, disposal of old materials, and prep work for the new space." Source.
If small cracks starts to appear in your concrete pool deck, it might be worth to resurface the concrete. Resurfacing costs about $3 to $5 per square foot.
Be sure to seal the concrete pool deck to protect it from the harsh pool chemicals and water. To seal the concrete after a couple of years of use, it will cost about $1.50 per square foot, including labor.
Another great investment may be pool stairs. They start at $400 dollars.
While concrete decks are normally even temperature, you can pay an additional $200 dollars to invest in a pool deck coating, which helps keep the concretes temperature low.
A great option for creating a pool deck that children will be running on is to add aggregate to make it less slippery. Some stamped concrete also adds traction.
Concrete pool decks, as you can see, are very customizable, and cost-effective options!
When starting to get a feel for your project, get a variety of quotes before choosing a professional.
Prices will also change depending upon the season. Late fall and early winter will give you the best prices because this is the down season. Overall, they will help you get a good idea of the price.