Tough building materials like concrete have a crucial role in modern construction. Because it is tough and durable, concrete is used for walls and floors. However, its natural tendency to be cold might be a cause for concern.
Concrete slab floors are colder than other building materials because of their high thermal mass. When the surroundings are hot, concrete floors can absorb heat and feel cooler. They gradually release heat as the surrounding temperature drops.
In this article, you'll learn everything you must know before installing concrete slab floors, including the best flooring for concrete slab, how to keep such floors warm, and the cleaning products you should use.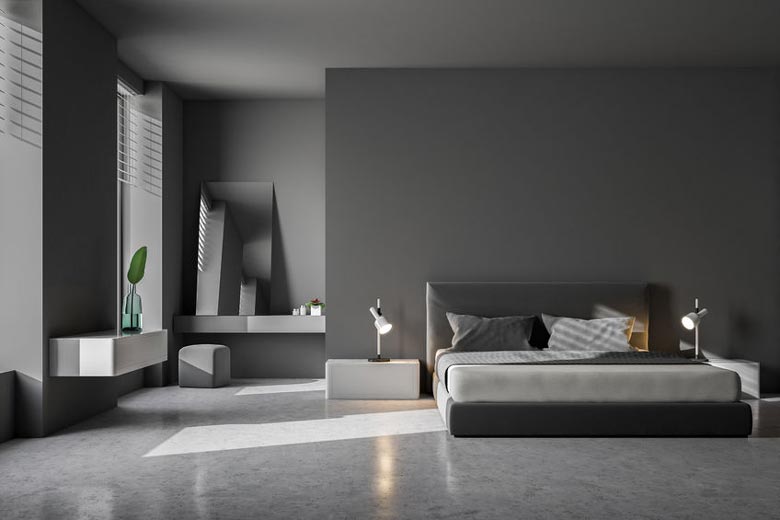 Concrete Slab and Temperature: A Brief Overview
Concrete slab floors have a lower insulating level and are hence quite cold to the touch. It's ideal to choose such flooring if you live in a hotter region or if your flooring gets direct sunlight. There is science behind why concrete floors can be cold at times and hot at others. 
It's basically because the concrete material tends to absorb heat by direct sunlight, store it, and slowly release it after 12 hours. It's perfect to choose, if you live in a hotter region because you will have a colder home, due to the concrete floor. 
However, many people don't know about this fact, but it's also great for those people who live in a colder region, but it's essential to have a source of direct sunlight, as, without that, it will be of no use, and your house will feel colder. 
Concrete Slab Floors: The Advantages
Using a concrete slab floor is cheaper than most alternatives. That's why more people are gradually choosing this option and experimenting without even using any kind of wood carpet or vinyl flooring. 
The best part about choosing a concrete slab is its cleanliness and indoor air pollution prevention. Say goodbye to dirt, allergens, dust mites, etc. Other benefits can also be low-maintenance, various design options, and heated floors.
Related article: Are Concrete Floors Bad for Dogs?
But it's essential to know about all the related factors. Some things to keep in mind are that it should be well insulated and kept from getting damp or cracking. Otherwise, you are good to go. 
Is It Necessary To Seal a Concrete Floor?
It's not necessary to seal your concrete floor, but it's highly recommended. It will protect the concrete from moisture and liquids, make your floor more durable, and protect it from any kind of damages.
There are different types of sealers used for various purposes, so it's important to know which one you want to get, and it should be of acceptable quality as it will extend the life of the concrete floor and keep its shape intact.
Here's a post about the best concrete sealers, and some helpful tips to avoid common mistakes.
By sealing your concrete floor, you will get many benefits. It will save your floor from getting moldy as concrete floors can lock in moisture, and it will increase their durability and extend their life twice as much.
It protects your floor from any kind of damage and cracks and renews its color. In such cases, maintenance is the key, helping you make your home look fresh and new.
Depending on which sealer you choose, it's recommended to reseal your concrete floor every 3-5 years.
How To Keep a Concrete Floor Warm
The easiest way to keep your house warm during a cold winter is by having your concrete floor soak up the sunlight all day long, and to do that, it's essential to have a place that is open and gets direct sunlight. Otherwise, it's of no use.
When the concrete floor absorbs and stores all the sunlight, they release it after some time, and whenever they do, it will give your home a nice warm feeling. 
A simple way is by adding rugs, as they make your space feel warmer and comfortable. You can add rugs wherever you want in your house; it is quick and easy.
The more time-consuming and costly option is adding an underlayment or radiant below surface heating. Radiant below-surface heating is the best option for the long run. 
It provides warmth directly to the floor and controls the room's temperature at the same time. It's an under-floor heating system that is installed between the subfloor and surface flooring to provide enough warmth in the room. 
Related article: Can You Have Concrete Floors on the Second Floor?
What Is the Best Flooring for a Concrete Slab?
When you decide to have a concrete slab, you must know that these slabs can get messy once they are damp because they soak up the moisture, and this moisture can ruin your floor. If you are not looking forward to dealing with that, it's best to know how you can avoid that. You can choose from a bunch of flooring options. 
The most popular flooring option is Vinyl Plank, and there are several reasons why.
It's cheap and doeasn't berak your bank
Easy to install
Waterproof
Warmer
Durable
Safe to use with a readiant heat
But you always have more options like Wooden flooring, Ceramic Tile, and Rubber Tile. You can also use Laminate as a floating floor. 
And even if you don't like the above options, you can always go for a classic, which will be Carpet in this case. When choosing this option, keep in mind that you will have to take extra care of this flooring. 
Top Cleaning Products for Concrete Floors
Concrete is an excellent material for indoor and outdoor floors. It is very well known for its durability. But one thing that many people may not know, that it also has an easy-to-clean property, which makes it even a better option to choose for your house flooring. 
It's not like it doesn't get any kind of stains at all, because it does, and it can also absorb moisture, dirt and get moldy because of being porous, so it's essential to treat and clean it right. There are many methods that you can use to clean a concrete floor, usually, a good concrete cleaner is the best option.
Using a power washer is the easiest method of all. You can buy or even rent it whenever you want to give your concrete floor a deep clean. It can clean away all the dust, grime, and mildew. It's easy to use if you read the instructions thoroughly, and then you can do it by yourself. 
However, if you are willing to buy one, you can buy it online from Amazon. One of their best sellers for the category is Sun Joe SPX3000 High-Pressure Washer, with a very high overall rating.
You can also wash away any kind of tough stains with a Black Diamond Stoneworks Floor Cleaner. It's cheap and highly effective. It will not only clean your floor but will also protect it and restore its color. It's natural and safe to use around pets and children with a fresh scent. 
For polished concrete floors, you have to be gentle and use a mildly strong cleaner. You will just need to mop and use the cleaner; however, keep in mind not to use bleach, ammonia, or any strong acids. 
Some of the cleaners you can use are a liquid dish, castile soap, detergent, and stone cleaners. You can also mop by sprinkling powder detergent, vinegar, bleach, degreaser, and baking soda for the unsealed concrete floor.
Read more: How to Clean Absolutely Any Stain Off Concrete
However, to avoid any future stains, it's important to use a sealant, as it will extend its life and give your concrete floor a fresh look.
Final Thoughts
Concrete slab floors are great for warmer regions as they're cool to the touch and have enough structural integrity to persist against heavy use. If you choose to use the material in a coder environment, make sure you sufficiently insulate it and have the appropriate flooring to keep yourself warm.