At some point, we have to fasten wires, junction boxes, or other instruments to concrete surfaces. If you've ever affixed things to wood, plaster, or drywall, you'll agree that it's often pretty easy to get the job done. However, if you've also done that on concrete, you'll acknowledge that it's a different ballgame, so it's crucial to use the best concrete fasteners.
Some of the best concrete anchors include those from The Hillman Group and Red Head. They are made of corrosion-resistant materials, have serrated heads, are durable and versatile, easy to install, and strong enough to withstand the toughest and heaviest objects. 
Read on for a description of concrete anchors, when you should install them, the factors to consider when selecting them, and the best concrete fasteners you can buy.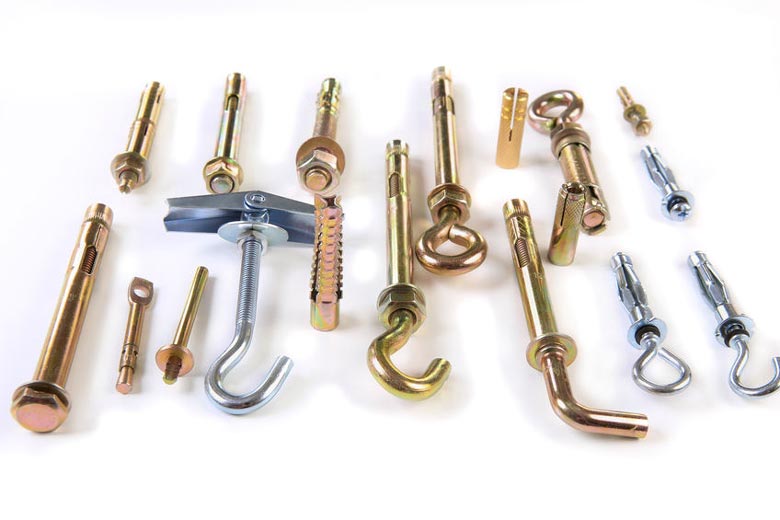 What Are Concrete Anchors?
Concrete anchors are used for fastening materials to concrete surfaces and are designed to provide a strong, secure hold for loads.
You can use them without damaging the secured fixtures.
Also known as concrete fasteners, most of them can endure heavy-duty applications. As you twist them into holes on concrete surfaces, these anchors tap or cut threads into the base material, creating the friction needed for them to hold items in place.
Read more: This Is How Concrete Anchors Work
When Should You Use Concrete Anchors?
Concrete anchors have become the most preferred fasteners in applications where the alternatives are susceptible to either bending or not bonding properly with concrete.
Although most of these fasteners are effective in bonding materials, some may not work well when used in overhead applications.
To get the best hold out of concrete, experts recommend that you use concrete screw anchors.
Concrete's hardness is measured in pound-force per square inch (psi), and it ranges between 2000 psi and 6000 psi. As a rule of thumb, you should use stronger fasteners on harder concrete.
You can use concrete anchors for piping and heating support, timber framing, to mention but a few.
The Main Types of Concrete Anchors
Concrete anchors come in different styles, sizes, and construction. The available options' applications range from light to heavy-duty.
This video shows you the main types of concrete fasteners:
And here are some more information about the most common types of concrete anchors:
Internally Threaded Anchors
Internally threaded anchors are versatile. Besides concrete, they're made to fasten bricks, stones, and blocks, but they're neither removable nor reusable.
However, it is possible to remove the bolts from internally threaded anchors and leave the anchor in the concrete without anything sticking out.
Examples of internally threaded anchors:
Drop-in anchors
These anchors are machine screw threaded and come with an expansion cone. You can use a setting tool to drive the cone to expand the anchor.
Some drop-in anchors have lips, allowing them to mount flush with the concrete surface. However, experts advise that you use an anchor without a lip if you want to mount below the surface, and you can use these types of fasteners for overhead anchoring.
Machine screw anchors
These come with a pre-assembled expander cone and a caulking sleeve made of lead.
You'll need a setting tool to push the caulking sleeve, as the expander cone causes the sleeve to expand, filling the hole.
However, these anchors are short, so do not use them in overhead applications.
Double expansion anchors
These anchors expand as you tighten the bolt or screw. It is especially great to use for brick applications as it distributes the pressure evenly across the anchor, which prevents the brick from cracking. You can of course also use them to fasten stuff to concrete as well.
See this great video on Amazon for a detailed demonstration!
However, they're unsuitable for overhead applications.
Single expansion shields
These anchors come with an expander cone and expansion shields. The wedge-shaped cone expands the shields as you tighten the screws, fastening concrete. No setting tools are required for this type of anchor.
Although they can bond several types of materials, you should not use them in overhead applications.
Externally Threaded Anchors
These types of anchors come with an exposed threaded stud, nut, and washer. Most of them don't require a setting tool.
Just like internally threaded anchors, these anchors are non-removable and non-reusable.
Wedge anchors (Stud anchors)
These popular pre-assembled anchors have a bolt body with machine screw threaded studs and come with an expander end plug.
They're designed for concrete applications and require a pre-drilled hole with a diameter equal to theirs.
You can use a hammer to drive the anchor. When you do that, the expander plug causes the anchor to expand, eliminating torque requirements.
There are some variants of wedge anchors. They are ideal for heavy-duty applications.
Chemical anchors
This is an anchoring adhesive that bonds threaded studs, rebar, threaded rods, bolts, and more to concrete. Applications include lightweight masonry substrates.
The chemical bonds created are bomb-proof, as the construction becomes resistant to shocks and vibrations.
Unlike other anchors that require some setting or expansion, chemical anchors don't add any stress to your structure.
Just inject the resin into the hole, insert your bolt and let it cure. See this video for a demonstration! (link to Amazon)
Screw and Pin Anchors
These one-piece fasteners are designed for concrete, block, brick, and stone applications, and require pre-drilled holes.
Screw and pin anchors are easy to use and great for applications that don't need too much strength.
They include:
Concrete/masonry screws
They are designed for a range of applications and cut their threads in pre-drilled holes.
Concrete screws kind of look like regular screws, but are great for anchoring items to masonry materials, like concrete.
Easy and fast installation, which also allows you to remove the screw completely.
Drive pins
If holding strength is not crucial in your project, then you can use these pins, which are designed for light-duty applications.
They come with drive pins that make it easy to attach fixtures to concrete permanently.
You will require standard hand tools to install them, but don't use these pins for overhead applications.
Powder actuated drive pins
They are the ideal pins for permanently attaching fixtures to either steel or concrete.
They come in different shank lengths, and some may have a washer. Washers increase the bearing surface area.
Power actuated drive pins need to be fastened with a special tool. There are some different variants of concrete nail guns, but all of them do the same thing, drive pins into concrete.
Screw Anchors
These anchors help you install a lag screw, metal sheet screw, or wood screw and are generally light-duty anchors. Applications include mortar joints, wallboard, ceramic tile, stone, and concrete.
The main types of screw anchors include:
Lag expansion shields
These screws are not internally threaded, so you may need to use lag bolts or lag screws.
You can use different styles depending on how fast you wish to drill and the masonry's strength.
The short style reduces drilling time, while the long style is ideal for strengthening weak or soft masonry.
Ribbed plastic anchors
These anchors expand, gripping the wall during installation. Applications include hollow blocks, hollow bricks, solid brick, wallboard, and concrete.
Most of them don't come with metal screws, so you may have to purchase these separately.
Just drill a hole, insert the ribbed plastic anchor, and screw in a screw. Easy!
Conical plastic anchors
These fasteners have rigid bodies and have fins that prevent them from turning as you tighten the screw.
Provides protection against rust and corrosion, just like some other anchors of similar types.
The screws are typically sold separately, so don't forget to buy that as well.
Sleeve Anchors
These anchors are designed for heavy-duty construction. They come with pre-installed screws or threaded studs that expand once you insert them into pre-drilled holes.
As you tighten the nut or screw, their internal expanders expand the anchor's sleeve, gripping the hole tightly. Sleeve anchors are usually not as strong as wedge anchors, though.
Sleeve anchors have different head shapes and can be used in masonry and concrete constructions.
Drive Anchors
These tamper-resistant pins are designed to expand once set in position. Applications include stone, brick, block, and concrete construction.
The most common type used in concrete applications is the hammer drive anchor, which is made for light-duty and ideal for permanent mounting.
To fasten concrete, simply drive the center pin flush. Doing that expands the anchor and locks it in place.
Despite their versatile applications, they're unsuitable for overhead usage.
Critical Factors To Consider When Picking Anchors
Knowing the types of anchors doesn't provide sufficient information for deciding the one to buy. Instead, you need to streamline the process by asking questions or considering different aspects that help narrow down to the most effective option on the market.
What are some of the questions to ask in that regard, then?
Here are some of them:
What Is the Base Material?
It's important to consider the base material you're fastening, which could be brick, concrete, block, or mortar. Here are some insights into the concrete anchors that work on these materials:
Concrete: All concrete anchors are designed for concrete applications.
Brick: You can use all anchors in brick applications. The only exceptions are wedge and drop-in anchors.
Mortar: Except wedge and drop-in anchors, you can use all types of anchors in mortar applications.
Block: You can use all anchors except wedge and drop-in anchors.
How Heavy Is the Object You're Fastening?
It's critical to consider the weight of the object you intend to fasten, which enables you to pick the right anchor size. Generally, the heavier the item, the larger the diameter of the anchors you'll need.
Here's a breakdown of the appropriate diameter sizes for different loads:
Use 3/16 in (0.48 cm) and 1/4 in (0.64 cm) fasteners for smaller, lightweight objects.
Use 3/8 in (0.95 cm), 1/2 in (1.27 cm), or 5/8 in (1.59 cm) diameter fasteners for medium-weight items.
Use 5/8 in (1.59 cm), 3/4 in (1.91 cm), or 1 in (2.54 cm) diameter fasteners for heavy objects.
What Are the Environmental Conditions of the Installation Site?
It's important to note that some environmental conditions can damage some anchors, depending on the type of materials used in making the fasteners.
Therefore, you should determine the ideal environmental conditions in which the available fasteners work best. If stuck, you should refer to the following tips:
Use zinc-plated anchors for indoor, dry applications. This is because zinc will not rust under these conditions.
Use stainless steel or hot-dipped galvanized fasteners for outdoor applications. If you use zinc in this case, your anchors could rust relatively faster. Stainless steel and galvanized anchors are rust-resistant even in the wet outdoors.
If you're working in submerged water, use concrete anchors made of stainless steel. This material provides the highest rust resistance underwater.
Use stainless steel anchors if your construction is submerged in chemicals. This is because of the material's corrosion-resistant property. A typical application would be fastening concrete around a swimming pool.
What Style of Anchor Do You Need?
Depending on the application, your search may be narrowed down to either male or female type anchors.
A male-type anchor is designed to be inserted into a pre-drilled hole. If you opt for a male-type anchor, ensure the concrete's hole has the same diameter as the anchor.
You won't need setting tools with this type of fastener, as you can drill the hole through the fixture and into the base.
Female anchors are made such that you can insert bolts into them. To install them, you place the fastener in the concrete hole and then insert the bolt or screw through the fixture.
Unlike when using male anchors, you will have to spot the hole when using these types of anchors and will need a setting tool during installation.
What Are the Spacing Requirements?
Last but not least among the factors to consider when buying a concrete anchor is spacing. Notably, you should consider the spacing from the concrete's unsupported edge and the spacing between fasteners.
You'll need to remember the following tips when working on your project:
Expansion anchors tend to exert an outward force. Forces from different anchors may overlap, decreasing the holding effectiveness of the nearby fasteners.
Installing concrete anchors too close to an unsupported edge reduces the performance of fasteners. The concrete could easily blow out when the anchor expands.
As a general principle, and to avoid the two problems above, the recommended minimum spacing between anchors is 10 diameters while that from an unsupported edge should not be less than 5-anchor diameters.
You might want to watch this video for more information on how to determine which concrete anchor would be more effective for your project:
Now that you understand the types of concrete fasteners and what to look for when buying them, let's review some of the high-grade anchors in detail.
Here are 11 of the best concrete anchors available on the market
This anchor is designed for concrete, wallboard, plywood, grout-filled block, and brick and plaster applications, while the thread design makes it resistant to spinning and stripping, increasing its effectiveness.
Its tip is heat-treated, and the patent design allows smooth entry, clean cutting, and provides a stronghold.
Some customers have also reported that these anchors are also pretty strong. However, it's advisable to use more than one of them if you're fastening heavy objects.
The main complaint is that these anchors may leave big holes in concrete.
The anchor is made of zinc-plated carbon steel, making it rust-resistant, and is designed for concrete applications in dry environments. The screw has a serrated head that allows it to sit atop the surface of the object it is attached to. Besides, the serrations prevent back-out. 
As long as you insert it properly, the screw will cut its thread into the concrete, as the threads are low-torque for easy insulation. The single-piece design means no need to assemble different parts. The screws tighten with no slack and have a solid feel.
Another best on the market, this anchor is rust-resistant, thanks to its carbon steel, zinc plated construction. The fasteners have anti-rotation serrations, so you don't need to worry about back-out.
The manufacturer uses standard ANSI bits rather than proprietary bits, reducing the possibility of failure and keeping costs at a minimum. With the large diameter, you can install the anchors in half the time you would take on wedge anchors, as you simply drill a pilot hole and drive the anchor by hand.
The anchors are easily removable, have a one-piece design, no nuts, and don't need washers to assemble. It has a high pullout resistance because of the higher number of threads in the construction.
This is the ideal choice if you need a fastener that works on light to medium-weight objects. It's versatile and can be used in concrete, brick, or block applications, and you can use it on both indoor and outdoor fixtures.
This 1/4 in. diameter anchor comes in either 1 in (2.54 cm) or 2 in (5.08 cm) lengths, with the latter offering slightly more support.
The drawback is that this anchor cannot be used in overhead applications.
Confast is a highly respected brand when it comes to anchors, as it is top-of-the-class fasteners.
The anchor's body is made of antimonial lead, while its cone comes with a zamac alloy construction. Consequently, you get a product that is highly resistant to rust and ideal for indoor and outdoor applications, ranging from concrete to cement blocks and to bricks. Also, the lead and alloy construction makes it extremely durable.
To secure this anchor, you must completely embed it in the concrete. It comes with a separate setting tool, which could be a drawback if your package arrives without one.
One of these concrete screws' distinctive features is that they don't come with expanders to set them in place. Instead, you have to drill them into holes slightly smaller than their circumferences by using their sharp edges to dig into concrete.
Ansen Tools' anchor is made of premium-grade carbon steel coated with advanced platings for long-term resistance to the elements, rust, and corrosion. The anchor has a diamond tip for precision even when inserted into extra hard objects.
It comes with the drill bit you'll need for installation.
The main complaint with this anchor is that it's not designed for heavy-duty applications, while other reviewers have complained that it's not as durable as expected.
This hex head sleeve anchor is designed to support up to 385 lb (174.64 kg), 4000 psi concrete, 340 lbs (154.22 kg) C-9 block, and 250 lb (113.4 kg) brick. That's a pretty decent deal!
It fits into various base materials and comes with either steel or zinc construction, meaning it's rust-resistant.  
Installation is quick, although you must have pre-drilled holes of the same diameter as the anchor, as it expands as you tighten it. It can be used to install cabinets, support pipes, shelves, handrails, window frames, to mention but a few.
One of the cons is that you'll need to pre-drill holes before you can install this anchor. The process can be time-consuming and burdensome, especially if you're a first-timer.
The Simpson Strong-Tie Strong Bolt 2 wedge anchor is an incredibly strong anchor, as it can withstand the toughest conditions. You'll never go wrong with durability with this concrete fastener.
This anchor can withstand abuse from extreme elements, including seismic activity. It has been classified as a Category 1 anchor, the highest possible performance rating for concrete anchors.
The wedge anchors are designed for performance in both cracked and uncracked concrete. Most notably, they come with enhanced technology that allows the fastener to expand upon detecting cracks near the installation area.
SNUG doesn't miss out on the list of brands that produce high-grade concrete anchors.
The SNUG Fasteners Concrete Screws come with an advanced coating known as EnviroSeal, the brand's signature corrosion-resistant material. The anchor has deep threads that tremendously increase its holding strength, and they can easily penetrate into hard materials, thanks to their super strong diamond tips.
In a nutshell, this fastener works great on concrete, block, and brick applications. The diamond tip allows for superior penetrating into hard materials
This product from the Hillman Group comes with a high-grade thread design that cuts into the concrete. The tapper screws are designed for fastening objects in brick, block, and concrete.
You can use them to attach downspout straps, flag poles, hurricane shutters, two-by-fours, or other multiple possibilities. You can also use the screw in both indoor and outdoor applications ranging from light to medium duty installations.
Another product from Red Head, this anchor cuts its threads into the concrete, and it's made of stainless steel, making it extremely durable and resistant to rust, corrosion, and elements.
The head comes with hex washer construction and anti-rotation serrations to ensure your objects stay in place once you anchor them using this fastener.
The anchor comes with Red Head's signature Length Identification Code, making it easier to inspect the product before and after installation. You can use standard drill bits during installation.
How To Install Concrete Screw Anchors
Once you've bought the anchor that suits your needs best, the next step would be to install it. If you're an experienced professional, doing that can be easy and quick. 
However, if you're doing it for the first time, here are the steps you can follow:
Using a hammer drill, drill a correctly sized hole in the base material. The hole's diameter should be equal to that of your chosen concrete anchor, and it should be at least ½ in (1.27 cm) deeper than the fastener's embedment.
Clean out all of the debris in the hole. Such debris can weaken the grip of your anchor's thread on the hole, reducing bonding strength.
Insert the fastener's pointed end through the fixture and into the hole in the concrete.
Drive the fastener slowly, which lets the thread tap into the concrete.
Alternatively, you can follow the steps described in this video when installing these fasteners:
Caveat: These guidelines are general, as the specific steps may vary, depending on the application and type of anchor. Ensure you read the manufacturer's guidelines for better results, or you might be very disappointed.
Bottom Line
When picking a concrete fastener, you should settle on the one that gets the job done and does not require unnecessary repairs. You might want to buy one that's coated with rust-resistant materials, easy to install, and comes with highly durable construction.
These concrete anchors come in different types, sizes, and materials, making it more difficult to choose one as you'll have a lot of information to process.
However, considering the base material, the object to be fastened, the installation site's conditions, the anchor style, and spacing requirements can be of great help.