Building fences at home is a smart and savvy way to save money, but it can be a daunting task when working with concrete. There are countless brands, mixes, and techniques that people use to secure fence posts, and knowing what to do is difficult. Using the best concrete mix for your fencing project will help you feel more comfortable with this large task.
The overall best concrete mix for setting fence posts is the SIKA Postfix Fence Post Mix. Although it's not really a concrete mix, but an expanding foam, this is a better alternative than concrete for fence posts. It's very convenient, easy to use, and fast-setting, which makes it perfect even for beginners.
Though SIKA Postfix Fence Post Mix has a high rating from customers overall, there are other fence post mixes with similar ratings and qualities. Not all mixes work for every type of soil, fence, and time of year, but below are suggestions that will guarantee you find the mix you are looking for.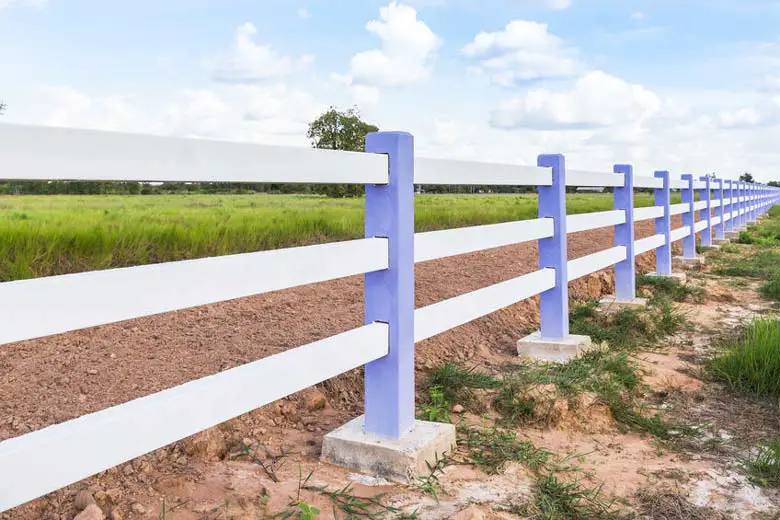 SIKA Postfix Fence Post Mix
SIKA Postfix Fence Post Mix isn't actually a concrete mix, but an expanding foam. That makes it very lightweight and extremely easy to use.
One small bag of this post mix is replacing two 50 pound bags of concrete mix and you don't even have to use water or anything else when using it.
This is absolutely our top recommendation for beginners!
Check out this video fully explaining the easy process of using this boggling fence post mix:
As you can see in the video, this alternative to regular concrete mixes has an easy and simple application process and can set in as quickly as 3 minutes. After two hours the post has set completely.
It is high strength and is resistant to water uptake, meaning it will not rot your wooden fence posts, crack in the winter due to moisture freezing, or shift your fence over time.
SIKA Postfix Fence Post Mix is also compatible with cold weather without the need for additives.
Although SIKA Postfix Fence Post Mix is great for installing posts for fences, gates, mailboxes, and signs, you shouldn't use it for structural posts.
This kind of post mix might not be cheaper than regular concrete mixes, but it's time-saving, easy to handle, fast-setting, convenient, and quite hard to mess up.
The only thing you really have to think about when using this expanding foam is that you have to be fast when the seal in the bag is broken. When the seal breaks, you have approximately 15-20 seconds before you need to pour the mix into the post hole.
This means that you have to have the bag of SIKA post mix right next to your hole when beginning the process.
Other concrete mixes are heavy, messy, and can be easily messed up by adding too little or too much water, setting the concrete in the wrong weather, or not digging a deep enough hole.
You will also need to buy, transport, and handle a fair amount of concrete bags to get enough concrete for all the fence posts.
Read more: How Many Bags of Concrete for a Fence Post?
SIKA Postfix Fence Post Mix is specifically designed to combat most of these issues.
All this makes SIKA Postfix Fence Post Mix a great alternative for beginners.
Check the current price on Amazon here!
The Best Classic Concrete Mix
As I explained in the section above, SIKA Postfix Fence Post Mix is a highly rated, easy-to-use alternative for concrete mixes, but it is a very unique and original material- in other words, it is not made out of classic concrete.
If that option does not suit your needs or your level of comfort with those kinds of products, it is understandable that you would want to stick to a classic mix of water and concrete.
When talking about classic concrete mixes, Quikrete Fast Setting Concrete Mix is the way to go if you want simplicity!
It's a fast-setting concrete mix that doesn't need to be mixed before using it. Just pour the mix into the hole and then add water, that's it!
The result will absolutely be strong enough for fence posts and you save yourself quite a bit of hassle.
Just check out this video to see how to use Quickrite to set a fence post:
What you don't save though is money. Quickrite is pricier, sometimes even double the price of regular concrete mixes.
Therefore you need to decide which is most important to you, a more convenient and faster concrete mix or to save some dollars.
Depending on the amount needed, it might or might not be worth going for the more expensive option. For smaller work, I would definitely choose Quickrite though!
I noticed that the cost of a 50-pound bag can differ quite a lot depending on where you get it. Therefore it might be worth checking a few places before buying. Sometimes it's cheaper in-store and other times you can find it cheaper online.
Check the current price on Amazon here!
Even though it's not as fast-setting as the expanding foam from SIKA, the concrete will set hard in about 20-40 minutes and you can start building your fence or adding weight to the post after about four hours.
Related Article: Concrete Fence Post Drying Times
Other Great Concrete Mixes and Alternatives
If you are unsatisfied with the two recommendations provided above, no worries! The world of concrete is a vast one and there are many other options for you when it comes to fencing.
Below are some of the top competitors to both the SIKA Postfix Fence Post Mix and the Quickrete Concrete Mix.
Fast 2K Fence Post Mix
Fast 2K Fence Post Mix by the brand H.B. Fuller is a close competitor to SIKA Postfix Fence Post Mix.
Fast 2K Fence Post Mix is made out of a similarly unique expanding foam technology to the SIKA Postfix Fence Post Mix, requires no water, works with steel, wooden, or vinyl posts, does not absorb water, and a 4-pound bag replaces 80-100 pounds of classic concrete.
This mix is extremely similar to SIKA Postfix Fence Post Mix but can be found for a slightly lower price. It also has quite a lot of happy customers but it isn't as popular as the one from SIKA.
The biggest downside to this product as compared to SIKA Postfix Fence Post Mix is the amount of time it takes to set. SIKA Postfix Fence Post Mix takes about 3 minutes while Fast 2K Fence Post Mix takes 15 on average, so it is not as quick if that is what you are looking for.
Check the current price on Amazon here!
---
Sakrete Fast Setting Concrete Mix
The leading competitor for a classic concrete mix like Quickrete Concrete Mix is Sakrete Fast Setting Concrete Mix (link to Amazon).
This concrete mix is as strong and easy to use as Quickrite, with a high strength 4,000 psi. It sets in just 1/2 hour.
Ensuring A Strong Base for Fence Posts
A strong base is vital when setting fence posts, regardless of which type of concrete you choose to use for the project.
The Home Depot made a perfect video showing how (and how not) to place, set, and cement your fence posts.
Watch the video below to confirm you are creating a base that will ensure the ultimate strength for your fence post.