Displaying framed pictures is a classic and easy way to make any space feel warm, friendly, and more like home. Hanging pictures on wooden walls, studs, and doors is not too difficult, but concrete walls can pose a challenge.
To hang a picture on a concrete wall, make sure it can be permanent and that the photo is not too heavy. Then, measure and mark where you want it, purchase the right hooks (removable adhesive hooks, masonry anchors, or hardwall hangers), ensure your hooks can bear the weight, and hang your photo.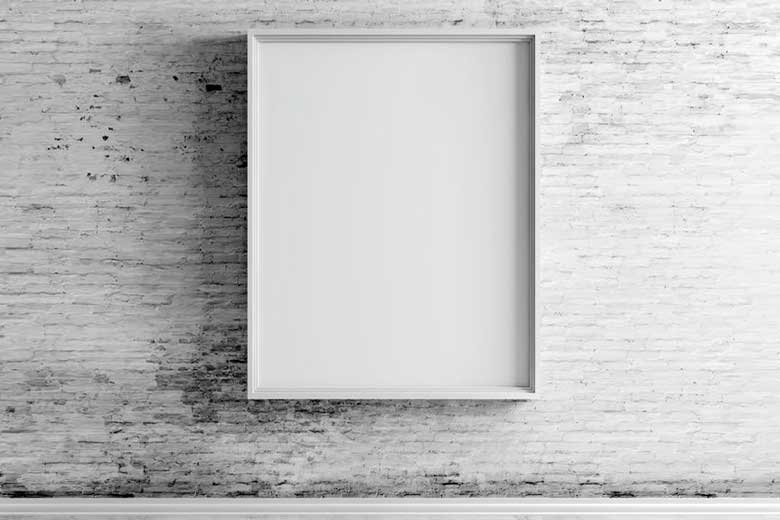 Decide Where To Hang Your Photo
The first step in hanging your photo is choosing what wall to hang it on. Deciding exactly where to hang your photo can be a stressful experience, but interior design experts have the answer at the ready.
When hanging one photo, place it in an area that is easily visible from most places in the room so you can enjoy viewing your picture from all angles. If you are hanging multiple photos, be sure you are using a completely blank wall so you don't overwhelm the space.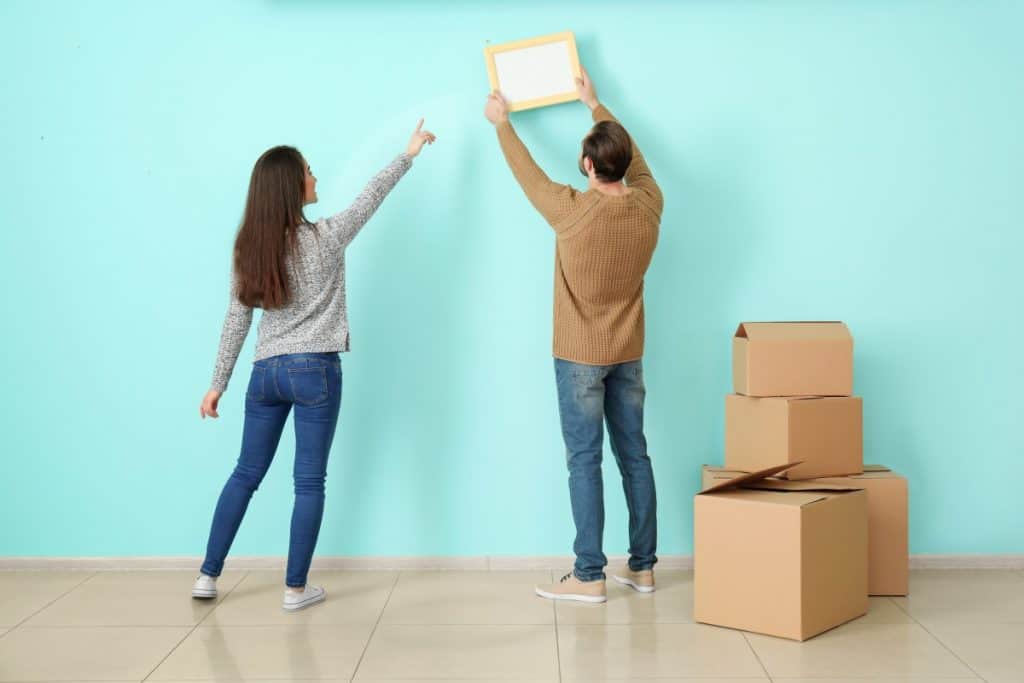 Avoid placing pictures on walls with televisions, high shelves, or extreme textures like stucco as extra visuals can take away from the picture's beauty.
To create the best visual experience, place the center of your photo at eye level, which is about 57 inches from the ground. When hanging multiple photos, place the center of the collage at eye level as well.
If you want to ensure satisfaction with your photo placement, measure your frames on paper, cut out the tracings like stencils, and arrange them on the wall to your liking.
Types of Hardware to Use When Hanging a Picture on a Concrete Wall
Once you know exactly where you want your photo(s) hung, it is time to pick out the hardware you want to hang the pictures with.
There are three types of main hardware for hanging photos on a concrete wall: adhesive hooks, hardwall hangers, and masonry hooks.
Choosing hardware for a concrete wall is dependent on a few different factors:
If you are allowed to drill into your wall
How long the photo will be there
The weight of your photo
The size of your photo
Your budget
At the end of the article, you will find a section going over the steps you must take to find out whether or not you can drill into your concrete wall. In general, if you own the house, it is a yes, but if you are renting a house, apartment, or room, you have to dig deeper for the answer.
Once you have permission, you have to think of how long you want the photo to be there. If you want it there for a short amount of time, use adhesive strips or hooks for a no-damage easy removal photo. If the photo will be there for a long while, you can use masonry anchors or hardwall hangers.
The weight of your photo in its frame matters when purchasing hardware as each style can bear different weights.
If your photo is light (less than 8 lbs) you can use any type of hardware (adhesive, masonry anchors, or hardwall hooks), but if it is heavy (30 lbs or more) you should use masonry anchors.
For photos with weight in the middle (8-30 lbs) hardware hooks or masonry anchors are appropriate.
Your photos' length and height are vital measurements to take, as some hardware support frames better than others. If your photo is long, avoid adhesive hooks as they are not as sturdy as your other two options.
The last factor to consider when purchasing hardware is how big your budget is. Adhesive hooks are the cheapest, averaging about $5.00 for a pack of two. Next comes hardwall hangers, totaling $13.00, as you can buy a pack of hooks for about $8.00 and a hammer for $5.00.
The most expensive (but most sturdy) option is masonry hooks. Masonry hooks cost about $2.00 per hook, anchors cost about $5.00 for two, and a hammer drill costs about $70.00, totaling $77.00. However, this option is only $7 if you already own a drill.
| | Adhesive Hooks | Hardwall Hangers | Masonry Anchors |
| --- | --- | --- | --- |
| Causes Permanent Damage | No | Yes | Yes |
| Weight | 7.5 lbs | 30 lbs | 200 lbs |
| Frame Length | Short | Short or medium | Any length |
| Cost | $5.00 | $13.00 | $77 ($7 without drill) |
How to Hang Your Picture on a Concrete Wall
After picking out which hardware you would like to use and getting the tools needed to install it, you are finally ready to hang your photo!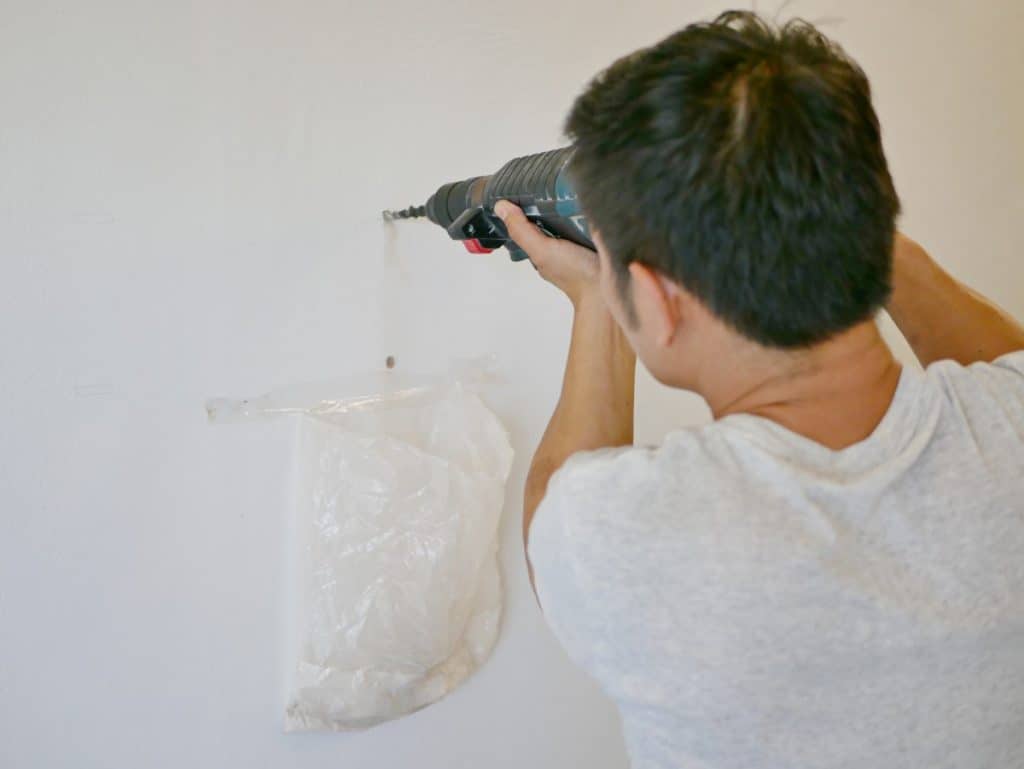 Every type of hardware is different, meaning the installment process is different as well. Below is a guide for installing each type of hardware.
By Using Adhesive Hooks
Clean the area with an alcohol wipe or other stripping cleaner.
Wait for the area to dry.
Mark the area you want to place the hook with a pencil.
Remove the plastic backing and hold the adhesive on the wall for about 30 seconds.
Wait 30-60 minutes before hanging your photo to ensure the adhesive has fully adhered to the wall.
By Using Hardwall Hangers
Mark the spot where you are placing your hanger(s).
Hold the hanger on the mark and use your hammer to pound one pin into the wall.
Step back and confirm that is where you want your photo.
Hammer the remaining pins into the wall.
Hang your photo.
By Using Masonry Anchors
Mark the spot where you would like to hang your photo.
Place the drill bit over the mark and drill into the wall (drilling at a slower speed will deliver better results).
Tap your anchor(s) into the hole until flush with the wall.
Secure the screw into the anchor.
Hang your photo.
Related article: 11 Best Concrete Anchors (Buyer's Guide)
Can I Hang Something On My Wall?
Hanging photos on the wall is often the first step taken when moving into a new house, apartment, or room. Before you start making holes in the concrete, be sure you are allowed to do so.
If you own the place where you are thinking about hanging a photo, there is no need to fret. Since you legally own the property, you do not have to worry about your landlord or roommates being upset that you drilled into a concrete wall.
Renting an apartment, room, or house is a different story. If you are a renter and want to hang a photo on a concrete wall, there are a few steps you need to take.
Read your contract or housing agreement and check for any information on wall hangings, remodeling, or renovation. If there is a definite no, then follow hanging suggestions that do not require damaging your wall to avoid being fined or evicted.
If there is not a firm answer, contact your landlord or whomever you are renting the property from and ask if you are allowed to hang a photo on the specific wall.
If all signs point to no, then adhesive hooks are the way to go.
Nobody likes a blank concrete wall so please enjoy displaying photos and other art to your space with these different options to ensure both safety and beauty.