Finding the best concrete for your fireplace, be it a kiln, wood-fired ovens, or incinerator, can be difficult, especially if you have no clue where to start. When the concrete mortar is subjected to increased temperatures, there is a decrease in compressive and ductile strengths and modulus of concrete elasticity. So what concrete should you use for a fireplace?
Concrete to use for a fireplace is concrete mixed with high alumina cement and refractory aggregates, such as crushed bricks, limestone, or slag. Before being subjected to extreme temperatures, the concrete should be allowed to dry, preferably heated gradually to about 200°F (93.33°C).
There are two main types of concrete that are ideal for a fireplace: high-heat refractory concrete and heat-resistant refractory concrete. To get more information on these preferred concrete types, read this article for a detailed guide.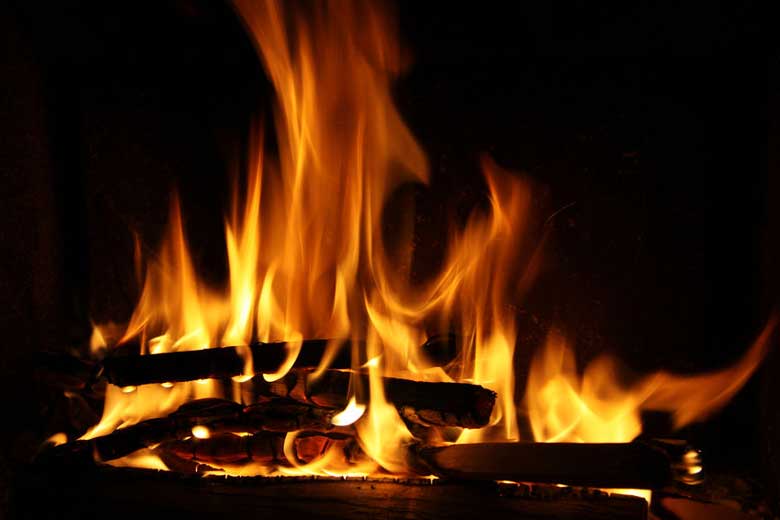 Concrete With High Alumina Cement and Refractory Aggregates
Concrete is often considered for fireplaces due to its durability and ability to resist fire. Mixing concrete for your fireplace is not rocket science but is rather easy to achieve with the right information. There is a way to make it resistant to fire and not easily damaged by the fire's heat. 
The materials you require are aggregates, including crushed bricks, slag, sand, and high alumina cement. The Rutland 12.5 lbs (5.67 kg) Castable Refractory Cement from Amazon.com is one of the best to use for fireplace concrete. The amount and size used depend on your needs. To achieve the best results, follow the intended thickness and uses of your concrete.
Here are the instructions to follow:
Come up with a full-scale template. A straightforward rectangular shape gives it a modern look.
Make sure the template fits against your fireplace. The concrete you make should be about 3 inches thick.
Mix the concrete. Mixing should be done on plywood or wheelbarrow in a ratio of 3:2:2:0.5. Three portions gravel, two sand, two refractory cement, and 0.5 hydrated lime.
Add water to the mixture until you can pack a handful of the concrete without it falling apart.
Cure the concrete by spraying the surface and edges of concrete with some water in a spray bottle.
Cover your concrete slab with a plastic sheet for a minimum of 48 hours once wet.
After 48 hours, remove the plastic and allow it to air dry before removing the forms.
For further guidance, watch this video: 
Can Concrete Explode in a Fireplace?
Concrete's fire resistance, I would say, is commendable. However, in a recent study by researchers from Empa, a concrete slab was heated up to about 600ºC (1,112ºF), and it exploded. Heating concrete to high temperature makes it vulnerable, and it undergoes severe strength loss.
Why Does Concrete Explode?
Concrete is made of sand, cement, and water. Nonetheless, it is reinforced during major construction projects, such as skyscrapers and bridges, to enhance its performance. A study in the cement and concrete research journal revealed that concrete explodes due to the properties that also make it strong: having very few pores.
These few pores do not allow moisture and steam to move out, building up concrete pressure freely. This increase in pressure causes parts of the concrete to blow away in what some would call an explosion.
Heat-Resistant Refractory Concrete
Heat-resistant refractory concrete can survive extreme temperatures and may be used for hot-face applications, just as its name suggests. A hot-face application is one whose surface is in contact with the main source of heat.
I suggest buying a heat-resistant cement like Meeco's Red Devil Furnace Cement from Amazon.com to mix with your concrete to assure you of a strong and durable fireplace.
Properties of Concrete at High Temperatures
Temperatures above 300ºC (572ºF) degrade the mechanical properties of concrete. These properties are responsible for the durability and reliability of concrete used at a fireplace.
Compressive Strength
The compressive strength in concrete decreases with an increase in temperature. The mixture proportions and type of aggregates influence the reduction in strength of heated concrete. At higher temperatures, concrete loses its moisture content due to evaporation.
Lean concrete with low cement content has a smaller reduction in compressive strength. When the compressive forces holding the concrete together decreases, it becomes prone to cracks and even explosions.
Tensile Strength
The tensile strength of concrete decreases with an increase in temperatures. Loss of tensile strength is directly comparable to the loss of compressive forces. At low temperatures, concrete only exhibits a negligible loss in tensile strengths. However, stronger heat leads to a significant loss of tensile strength. The tensile strength is essential because it prevents cracking.
Stiffness
The stiffness of concrete is often constant at low levels of stress. However, its stiffness decreases with an increase in temperature and higher stress levels. Concrete features a low coefficient of thermal expansivity, which is the tendency of matter to alter its shape, volume, or area in response to temperature changes. Concrete should be made in such a way that provisions for expansion are made to prevent cracking.  
Spalling
Spalling is more prone to occur at high temperatures. When the concrete's surface is heated at high temperatures, moisture close to the surface moves out of the concrete to the atmosphere. 
However, the high-temperature gradient between the concrete surface and atmosphere can lead to vapor moving inwards, and it condenses with lowering the temperature. 
Hence, spalling is caused when the vapor condensation rate exceeds the speed of vapor escaping from the concrete's surface.
Pros of Concrete Fireplaces
Over the years, concrete has become a popular material for fireplaces and countertops, roofing, floors, and sinks. It is incredibly versatile and the first option when it comes to making fireplaces. The main advantages are:
They are durable and long-lasting if well maintained.
They increase your home's value due to their intricate designs. These designs also beautify your home in unique and appealing ways.
Concrete fireplaces also enhance your home's heating efficiency because the block absorbs and then redistributes the heat produced.
Cons of Concrete Fireplaces
Unlike what people may say, I have found concrete fireplaces to have a few disadvantages. Not the type that would render them less useful, but it is essential to go over them anyway.
Concrete fireplaces are difficult and expensive to install because they require a foundation and are often heavy.
They also take up a lot of space in a room because they necessitate clearance from the combustible materials.
They are not environmentally friendly. 
Maintaining a Concrete Fireplace
Even the best fireplaces can crack and look bad if neglected. According to some online sources I found, your fireplace and chimneys should be inspected at least once every year to ensure correct clearances, soundness and that they are free from deposits. Keeping your fireplace clean, however, means regular cleaning.
Maintaining your fireplace is easy: 
Make sure you use the right wood.
Install smoke and carbon monoxide alarms.
Remember to clear any creosote and soot build-up.
Fortunately, concrete fireplaces only require a low-maintenance budget and are durable.
Final Thoughts
A focal-point concrete fireplace is essential for any home as it provides warmth and spells out hospitality. Concrete, when chosen with consideration to design, can be used to decorate both indoors and outdoors. It is versatile and a popular choice, specifically due to its durability.
Today, concrete has gradually become one of the most popular human-made products. It is virtually fire- and water-proof. Consider the tips on this guide, and you will have it easy the next time you want to use concrete for your fireplace. You can never go wrong with it.