When cracks appear in your concrete driveway, they can be unsightly and hazardous. Depending on the cracks' size and scale, you might need a high-quality concrete crack filler that can sufficiently fill, reduce, and cover the cracks, but how do you know which concrete filler is best for the types of driveway cracks you have?
The best concrete crack fillers for driveways include those from DRYLOK or Red Devil. They are liquid aggregates applied to a crack's interiors to seal and prevent it from spreading or deepening further. Once dry, crack fillers offer support and bonding strength to your concrete driveway.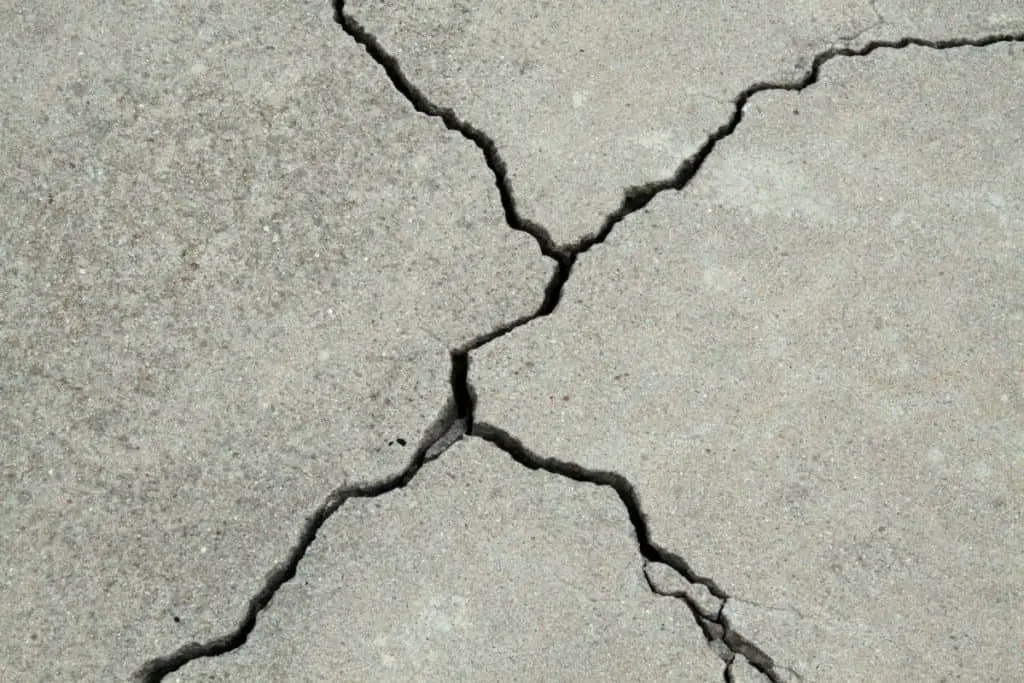 Read on to see our top picks of the ten best concrete crack fillers for driveways and the benefits each of them provides to accommodate your specific needs. The rest of this article will cover: 
Some of the most common reasons concrete tends to crack. 
What contributes to those cracks. 
How you can efficiently tackle them with the right crack filler. 
For smaller cracks and the occasional use, the DAP Self-leveling Concrete 3.0 sealant is ideal because it's quick-drying and offers a fine point for the product to fill those smaller apertures effortlessly. It's also self-leveling, which means you won't have to worry about leveling it out before drying. It offers outdoor protection and resistance to moisture buildup and dries in a neutral gray color.
For those larger settlement cracks, you'll want to opt for a big tub DRYLOK Hydraulic Cement crack filler that offers the durability and strength to reconnect sharp edges and defined cracks. 
It's ideal for deep and wide cracks where the concrete has already separated and can prevent water damages and pooling that may otherwise be present if the cracks are left unattended. It comes as a dry powder that needs to be mixed with water and filled from the bottom of the crack upwards.
The Red Devil Pre-Mixed Concrete Patch squeeze tube is a convenient and easy-to-use concrete crack filler that fits in your pocket and serves as the everyday crack repair tool for small but deep cracks. The consistency is not too runny or too dry, meaning it's simple to patch both horizontal and vertical cracks. 
Its long nozzle also means you can reach deep into small cracks or holes and fill them. This concrete crack filler was made for those on a budget and eager to save money.
The Sashco Slab Concrete Crack Repair Sealant goes a long way with just a little product and is already mixed for your convenience. Its long nozzle makes it ideal for filling long and winding cracks with a little bit of depth. 
It offers a blended appearance when drying, making it great to use if you're trying to maintain a consistent appearance across your driveway. Its consistency is ideal for effortless expansion into the cracks and can accommodate narrow ones that are deeper and curved.
Preferred for repairing concrete joints, the Sakrete Concrete Crack Filler is a pre-mixed concrete filler known and appreciated by contractors for its strength and longevity. It's a paintable solution that allows you to apply and seal it seamlessly, all while giving your concrete a stunning and sturdy finish. 
This sealant may require some extra leveling tools to get it just right, but smoothing out the surface will only ensure its durability for longer. When completely dried, it'll offer years of comfort and support to your concrete driveway.
The Bluestar Flexible Concrete Crack Filler is a great beginner crack filler as it allows you to start small and build up your expertise by filling more extensive cracks. It can fill some cracks up to an inch in width and is suitable for reinforcing concrete slabs and sealing damaged concrete pavers. 
This concrete crack filler also comes in two colors to accommodate your concrete's shade so that you can mend your repairs with apparent lines and is already mixed and ready to use from the bottle. 
We recommend getting used to the texture and how to use it by testing it out on a smaller, less-visible crack before moving on to larger cracks.
The Akona Gray Pourable Concrete Crack Filler is a liquid filler that's fantastic for those that want a convenient solution for their range of different concrete cracks. It comes in a large, pourable container that makes filling big cracks quick and straightforward, minus the extra fuss, while also offering a sharpened tip to touch up those tiny cracks. 
The pourable nozzle allows for precision and without having to get your hands dirty in the meantime. It'll give you enough product for several uses and a combination of various crack-filling projects.
The DAP Concrete Patch interior and exterior concrete crack filler is appreciated for its multipurpose use, especially if you have more than one reinforcement project to complete. It comes already mixed and will require a trowel to smooth it out after application, but it is practical for most types of masonry use, including filling driveway cracks.
It also dries as a non-shrinking crack filler, so you won't have to worry about weather-related cracks worsening and breaking the crack filler's bond as well. It also provides large amounts of the product without a hefty price tag for those dealing with larger and deeper cracks. 
You'll get a lot of use out of it even beyond patching up your driveway, as you can also use it for fixing cracked grout, mortar, rebuilding stairs, patios, pathways, and retaining walls.
The Damtite Waterproofing SuperPatch concrete crack filler can be optimized for covering those plastic shrinkage cracks that form on the surface or improper drying-related cracks that give your concrete flaking and dusted appearance. 
It is lightweight and a bit thinner in texture than other concrete fillers, making it great for surface patching and spreading across the area where smaller cracks are readily present in higher quantities. Because of its thinner texture, you'll also need to work quickly with this mixture to avoid having it dry out of place. Once you've gotten used to the consistency, it can offer extensive support and adequately seal your cracks. 
Last but certainly not least, the Red Devil pre-mixed Concrete Patch filler offers a range of benefits combined into one tub you can purchase in different sizes. For the price, durability, and the level of strength it provides to any crack, this is the perfect concrete crack filler for beginners with small cracks that need patching and intermediate users who have large cracks that need repairing. 
It protects all types of concrete cracks and has easy-to-follow instructions that give you optimal efficiency when filling your driveway's cracks. Since this concrete crack filler ensures the highest standard of strength, you can safely drive on it after it's been cured, as well as paint, wash, scrub, and expose it to the elements without worrying about it deteriorating or your cracks returning.
Why Concrete Is Ideal for Driveways
Concrete is a reliable and durable material for driveways because it is stable, dependable, and can withstand vehicles' weight and regular traffic. It doesn't easily succumb to damages when installed correctly and is heat-resistant. With little maintenance needed, it can even be customized to your liking with stamping techniques, making it a go-to for homeowners looking to add some dimension and texture to their driveway.
Concrete also has a long lifespan and can adequately support your driveway for many decades while only requiring the occasional cleaning and repairs.
Not All Cracks Are Created Equal
Concrete cracks for several reasons, and determining which type of cracks you have will help better troubleshoot the cause behind your cracks and how to repair them. 
The concrete experts at Concrete Supply Co. have concluded there are approximately six different types of concrete cracks, five of which we will discuss in further detail as they are relevant to driveways:
Plastic shrinkage cracks result from too much water in the concrete mixture and are small, web-like cracks that are light and thin.
Expansion concrete cracks result from the concrete surface swelling from higher temperatures, causing grinding in cracked concrete plates that leave behind heightened and sharpened cracks and uneven layers of concrete.
Heaving concrete cracks result from the soil freezing, unfreezing, and shifting over time, causing the top layer of concrete to move with it and appearing as long but narrow cracks.  
Settling concrete cracks result from too much space between the concrete's base and its top surface and are wider than other cracks.
Improper drying cracks result from concrete that hasn't cured properly, usually from the concrete drying too quickly due to the water ratio being low, and appearing in small but numerous cracks.
By analyzing your driveway's cracks, you can take control of the problem with the right filler that can perfectly accommodate the type of concrete cracks you have.
Other Factors That Contribute to Concrete Cracking
After considering what type of concrete cracks you have, consider the other factors that can contribute to low concrete quality or serve as the root source of the problem, and how they relate to your cracks. Examples of this include: 
Poor site preparation 
Inadequate mixing ratios 
Poorly-planned pouring methods
Failure to apply sealants
Overall weather conditions
Extended use
All of these can cause your concrete to crack over an undetermined period of time.
Poor Site Preparation
Land quality and poor preparation methods with subgrades and formwork can result in your concrete cracking earlier than usual. Failure to remove boulders, tree roots extending beneath the concrete, and other building debris, can also lead to future damages. 
Cracks that form from low-quality site preparation are usually settling cracks and leaving behind the more obvious damages in your driveway that can be harder to repair. 
When the soil beneath the concrete begins to shift, it can cause the concrete to change with it and leave behind deep cracks that form uneven plates. Settling cracks are common on concrete foundations as well, which usually require further foundation repairs from professionals. Therefore, adequate site preparation and excavation are crucial to the success and longevity of any concrete surface.
Concrete Mixing Ratios
Another common problem that occurs is when concrete has been poured with the wrong concrete powder to water ratios. The mixing ratios are essential because when they aren't mixed correctly, the concrete you are left with is less than durable. 
If the concrete mixture is blended with too much powder or too much water, it will dry fast and crack even quicker. Plastic shrinkage cracks and improper drying cracks can result from an improper ratio, and can eventually lead to premature deterioration after minimal use.
In most cases, concrete can last for several decades. If you notice early cracks that are small and appear on the concrete's surface, you likely have concrete containing inefficient powder to water ratios.
Read more: What Concrete Mix to Use for a Driveway
Poorly-Planned Pouring Methods
There are two pouring methods often used for installing driveways: forms and slabs. Concrete forms are larger frames that stabilize and hold the concrete for the anticipated driveway until it's dry. They're then removed once the concrete has taken its shape. 
Unlike forms, concrete slabs are similar to flattened concrete tiles and consist of smaller molds for pouring concrete. and are aligned with one another to create the same even surface that is your driveway.
Most concrete surfaces are also installed with built-in concrete expansion joints that add more balance and structure to the surface and distribute even levels of pressure throughout.
When the concrete hasn't been poured professionally or with care into either the forms or slabs or on unlevel surfaces, too much pressure can add stress to joints in the concrete and leave you with plastic shrinkage cracks or settling cracks. 
Lack of Sealants
Sealing concrete is incredibly important because sealants lock concrete in place and give it a strong, protective layer. Although concrete is incredibly durable by itself, it can still succumb to oil stains and cracks because of its ongoing exposure to the elements, and even more so without a sealant.
Sealants also deter excessive moisture, protect the concrete from UV rays, and solidify the surface further, even after it's cured. Sealants can also save any customized concrete, such as stained or stamped, to maintain its beauty and appearance.
Using concrete without a sealant makes it vulnerable to surface damages and heaving cracks.
Read more: 11 Best Concrete Sealers (and a few mistakes to avoid)
Extreme Weather Conditions
Weather conditions can also catalyze concrete's decline. Concrete requires the right outdoor setting for pouring and curing, including consistent, dry temperatures and less moisture. 
Rain interfering with drying concrete increases water in the mixture and can tamper with your concrete's lasting strength. For this reason, summer is usually the preferred season for pouring new concrete.
Freezing temperatures provoke the concrete to shrink and later expand when thawing, resulting in those unwanted heaving cracks, which can continue to worsen throughout the winter season. 
Keep in mind that concrete freezes before it's fully cured if exposed to lower temperatures, so even though it appears dry and firm, you may notice cracks creeping in once it's begun to defrost.
Read more: Pouring Concrete in the Cold: How to ensure it won't crack
Your Concrete's Age
Estimating your concrete's age can be tricky if you don't know much about concrete or if you weren't the one to initially install it. But you'll need to get an idea of how old it is so that you know how much time you have left before a complete overhaul is needed, along with any potential underlying problems that are causing the cracks. 
Try to find your old building records to learn the date of when your driveway was installed. If you still aren't sure and there isn't evidence to suggest otherwise, you can probably assume the driveway is as old as the rest of your home. The older your concrete is, the more repairs you can anticipate over the years.
You can also check for existing evidence of any reinforcements around the concrete from previous owners to verify its condition. Have former cracks already been filled before you moved in? How wide and long did they appear? Do your new cracks look similar?
Even when concrete has been installed to a professional standard, it can still succumb to natural wear and tear that may still require crack repairs after ongoing and frequent use.
Narrow Down Your Concrete Crack Filler Options
We've assessed what components aid the long-term success or eventual deterioration of your driveway, including how your concrete was installed and any environmental factors contributing to its structure. Now, it's time to look at what makes a concrete crack filler the most suitable one to assist with the types of concrete cracks you have.
Like the concrete cracks themselves, concrete crack fillers also come in a selection of product sizes, levels of strength and offer varying degrees of durability that are relevant to your concrete cracks.
Budgeting the Costs
To begin planning, start by setting a budget of how much you're willing to spend on your concrete crack repair project. Chances are, you'll want to save as much money as possible, but that doesn't always mean grabbing the cheapest product you find, as some are better designed for smaller cracks, while others are made for more extensive repairs. 
We wrote an article breaking down the costs of fixing cracks in a concrete driveway, both professionally and by doing it yourself. Reading that would be a good place to start.
Estimate how much product you'll require based on the extent of your cracks.
Although not always necessary, you may need to clean the concrete surface area first before applying thicker concrete crack fillers so that they stick entirely. Cleaning the concrete can be difficult because of its porous texture, so you may need to invest in a power-washing system or a concrete cleaning scrub that helps remove dirt and dust buildup before application.
Read more: How To Clean a Concrete Driveway Without a Pressure Washer
Certain concrete crack fillers also require extra tools for the application to smooth and even out the product on the cracks, such as a trowel. Cleaning and application tools will add to the overall cost of your concrete crack repair project.
Severity of Cracks
Even if you have multiple cracks, you may still only need a small amount of crack filler to do the job and lightly patch them, assuming they're mild and light. Checking the severity of your concrete cracks will help you understand which type of crack filler fits your project's patching needs. For numerous, more significant cracks, you'll want to invest in larger concrete crack filler quantities because the cracks will require more product.
Based on the severity of the cracks, larger quantities of product will ensure your cracks are bonded back together and drying times are consistent enough to provide the structural support needed to create an even surface again.
Do You Need a Tube Or a Tub?
Calculate how many cracks you need to fill and purchase a practical product to restore all of your cracks accordingly. 
Some crack fillers come in small tubes and are created for those thinner, smaller cracks that are not very wide or deep, while others are available in larger tubs or buckets and are anticipated for building up product to seal in a deep or wide crack.
Consider the product that offers enough coverage for the number of cracks you have to avoid running out of crack filler mid-project.
Smaller tubes are likely not sufficient to fill the larger cracks, even if you decide to purchase multiples of them, as you may be redundantly wasting product that could also add up in price. It is also not recommended to mix products on the same cracks. Each product bears different drying times and chemical composites, so combining them could produce undesirable effects once your concrete crack filler finally cures. 
You can, however, use smaller tubes of concrete filler for the little cracks and larger tubs of crack filler for your more invasive ones.
Your Level of Expertise
Lastly, you should consider your level of expertise or the amount of effort you're willing to put into the repairs. If you're a beginner who's never worked with concrete crack fillers, mortar, grout, or anything similar, and you want something quick and easy, you might aim for a reliable, no-mess concrete crack filler that you can swiftly brush over your cracks with.
If you've installed concrete crack fillers before and feel comfortable mixing concrete, getting the right texture and ratios, have the tools on hand, and know what you're doing, then you can opt for powder products that require a few extra steps but go a long way.
If you're a beginner, have a sprawling driveway, or even have many cracks to fill, don't be afraid to ask a friend for help fill larger cracks simultaneously to ensure they dry at an even rate.
Regardless if you're a concrete expert or not, you've now got all the knowledge you need to find the concrete crack filler to restore your concrete driveway to its original glory. 
Preventing Future Cracks
Now that you've successfully browsed through the different types of crack fillers and have thought about which one you'd like to purchase, it's vital that you also take steps to maintain the reinforced integrity of your concrete for prolonged use after you've applied the fillers. 
Although crack fillers can stop existing cracks, they can't necessarily prevent new ones, but you can with the right preventative measures.
Add Sealants
When enhancing your concrete, consider adding a sealant to it every few years to prevent it from cracks and damages. Sealants are liquid solutions applied to the concrete's surface to solidify it and protect it from top-layer damages. 
They can help harden concrete and deter scratches and oil stains that can otherwise penetrate the porous surface and diminish the concrete surface's beauty and cleanliness.
Read more: How to Seal Concrete in 7 Easy Steps
Sealants require re-application to keep your concrete in prime condition, and the type of sealant you choose will determine how often you need to have your concrete driveway re-coated. Epoxy-based sealants can last up to a decade, while acrylic-based sealants will need to be re-applied more frequently for the same results. 
Power-Washing Concrete
Power-washing your concrete, or using high-pressure water to clean the surface, can ensure that any dirt and debris are removed from the concrete's small pores and avoid any discoloration. You can hire professional power-washing services or invest in a home power-washing system to remove unwanted dirt.
Concrete crack fillers can easily be power-washed without issue as they will have protection against moisture and prevent water from seeping into your cracks.
Conclusion
Now that you know the best concrete crack fillers for your driveway and what they can do to prolong your driveway, you can invest wisely in the best crack filler product that offers the comfort and convenience you require to take back control of your driveway and patch up your cracks. 
After applying the right concrete crack filler, you can sit back, relax, and know that your concrete driveway is now safe to use for many more years to come.