Concrete has long been a go-to building material for an array of construction projects. While extremely durable, concrete does succumb to eventual cracking and can require removals and replacements. So, what is the best way to get rid of concrete without merely disposing of it?
Some places you can take concrete to be recycled include concrete companies, local contractors, and charities for future projects. Concrete is a valuable construction and demolition material, and by recycling your concrete, you're encouraging less waste and more sustainable construction.
Whether it's your damaged patio, an old retaining wall, or your entire driveway, there are many beneficial reasons you'll want to consider recycling your concrete instead of throwing it away. Read on to learn about the companies and organizations that will willingly take your unwanted concrete and how you can get rid of it sustainably.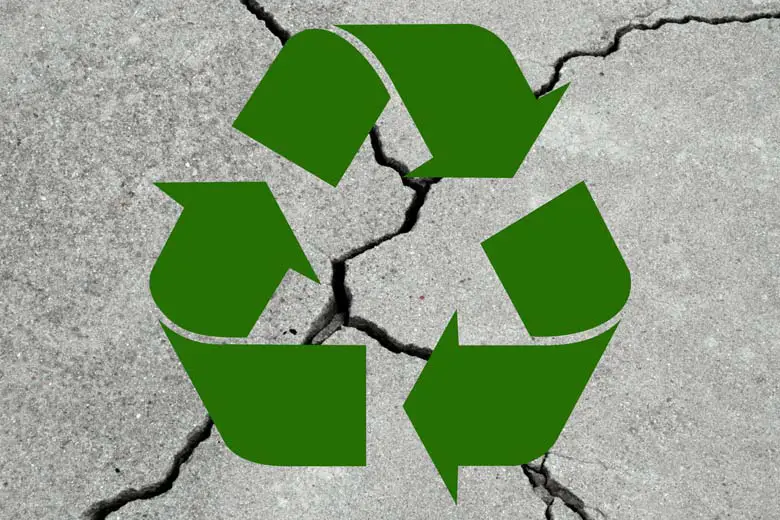 The Impact of Concrete Waste
When you look at your cracked, crumbling, or deteriorating concrete, you probably think it would be easier to toss it in the garbage.
However, did you know that by throwing away your old concrete, you're contributing to the millions of tons of construction debris the US accumulates each year?
The US Environmental Protection Agency (EPA) reported an estimated 600 million tons (544 billion kilograms) of construction and demolition debris in 2018 alone. 
Although this number seems daunting compared to the small amounts of concrete in your driveway slabs or patio pavers, disposing of salvageable concrete only forces building companies and contractors to obtain construction materials in new condition, thus creating more and more waste.
The same statistics show us that concrete remains one of the top construction waste materials contributing to the overall figures, making up approximately 67.5 percent of the total waste and more than some of the other materials combined.
Of that 67.5 percent, nearly 71 million tons (64 billion kilograms) of concrete waste was taken to landfills in 2018, with numbers only increasing over the years.
The EPA data also indicates that much of the concrete waste comes from buildings, roads, and bridges.
While you may not be thinking of demolishing your home, even smaller demolition projects, such as tearing up your driveway, can add to these greater figures and prolong the adverse effects on the environment.
As a result of the high waste, the EPA and relevant organizations are making strides to combat the improper disposal of concrete and counteract the consequences of concrete waste on the environment.
Our landfills are filling up quickly, but with a greater understanding of the impact of waste, you can make some simple changes that significantly alter the course of action our environment is headed.
Why You Should Recycle Concrete
The EPA states that doing so can deliver a long-term, positive impact on families, communities, and the economy when effectively recycling concrete in various capacities.
Adequate recycling might require a little extra planning on your part, but there are perks in it for you too that you may not be aware of:
You'll help directly reduce building expenses for local contractors.
There are potential tax benefits if you donate the concrete to charities.
You'll reduce the need for more disposal facilities.
You'll positively contribute to the environment.
You'll conserve limited landfill space.
In terms of building costs, some engineers estimate that opting for recycled concrete can lower the standard building costs because doing so cancels the cost of transporting it to landfills by as much as $0.25/ton/mile.
For contractors and their anticipated construction projects, these are huge savings when incorporating how many tons of concrete are used for larger sites, such as commercial buildings.
By recycling all concrete forms, you can lower the demand for new concrete and give building companies and contractors a sustainable, cost-efficient alternative to obtain their construction supplies.
In return, your impact will ignite a chain of events that reduces the need for raw materials and encourage manufacturers to produce less.
As a result, the concrete that you remove from your driveway and recycle can then be used towards the new building, road, and bridge projects and positively drive down other costs in that same chain of concrete demand.
However, suppose you decide you'd rather go the charitable route and donate your concrete for recycling to a nonprofit or organization in need, as the EPA has noted. In that case, you may also be able to reap the tax benefits in return and receive a deduction.
So, not only will recycling concrete save others money, but it'll save you some money, too.
In conjunction with savings, recycling concrete has more significant effects on the physical longevity of the environment.
When you account for how much concrete one construction site can produce, this requires equally enough landfill space to accommodate that same concrete, should it be disposed of rather than recycled. 
Now, consider that in the larger picture, and you've got hundreds of thousands of wasted concrete quickly accumulating in landfills.
Furthermore, by choosing to recycle your concrete instead of disposing of it, you can also reduce pollution and waste in the other sectors. These are factories and industrial settings where Greenhouse gas emissions are increased due to manufacturing raw construction materials or disposing of concrete. 
Regardless of where you decide to take your concrete, recycling is one of the many ways you scale down on excessive waste and benefit your community.
Related article: Do Concrete Gutters Contain Asbestos?
How To Get Started Recycling Your Concrete
Now that you're aware of the environmental impact concrete construction and demolition waste have, you can move on to learning about how to recycle your concrete safely and securely sufficiently.
It'll require some legwork and digging, as regulations vary from place to place, but once you find the best place to recycle your concrete, you'll be glad you put in the effort.
Before you start packing up your concrete and hauling it away, you'll need to think about how much concrete you want to get rid of and whether or not you have the capacity to move it yourself, or if you should enlist the services of others.
Concrete will ideally need to be reduced to rubble before it can be safely transported, so it's essential to consider how you'll achieve that consistency.
Concrete is a heavy and bulky material and is better broken down before it can be stripped from your surface and entirely removed.
You can hire professional concrete services to grind the concrete into rubble. Alternatively, you can purchase tools yourself, such as the XtremePowerUS Heavy-Duty Electric Jackhammer Concrete Breaker (link to Amazon), and take on the project at home.
Either way, the large amounts of debris will then need to make it from your location to the facility where you'll recycle it, so map out your plan thoroughly on how to loosen and haul away the concrete, especially if you aim to do so en masse.
Do Your Research
Anytime you're tackling something new that you've never tried or done before, you'll want to do a bit of research before venturing out.
We recommend researching your state and city's local regulations, as they might have their recycling and disposal methods.
State and city webpages can direct you to the nearest facilities where concrete can be taken for recycling if it's most convenient for you.
Most states have also created their waste management plans to tackle the amount of concrete disposed of every year. To find how your state is tackling its waste management problem, check out the EPA's reports and guidance for waste management in every state.
Most places aren't picky about the type of concrete you recycle, but some may have preferences.
Be sure to ask about the kinds of concrete they accept, how drop-off or hauling works, and whether or not the company or facility offers assistance in loading, unloading, and removal, as this will help you plan your recycling accordingly.
Make Some Calls
When attempting to recycle your concrete, you may have to make a few calls before finding a place that can accept your concrete.
Not all companies or facilities will readily take concrete in bulk to be recycled without notice, but they can usually refer you to another location that can.
We suggest calling around to find the facility that makes recycling your concrete the most comfortable and convenient, such as assistance with unloading the concrete, pick up and hauling brought to your doorstep and quick scheduling of services.
Doing so can save you time and energy from hauling the concrete yourself or damage your vehicle during concrete loading.
Ask for Help
As with any large-scale project, never be afraid to ask for help. You can ask your friends, family, neighbors, or even the recycling company themselves for further assistance in breaking down the concrete, safely removing it, and adequately hauling all of it away.
It can be dangerous and challenging to remove concrete if you aren't equipped with the right tools or don't have the manpower for such a task on your own. 
There's no harm in asking someone for help or seeking professional assistance from the place where you'll be recycling your concrete.
Many locations have teams that can remove bulky concrete pieces and concrete slabs and come prepared with the right vehicle and tools that make it swift.
Spread the Word
Now that you're aware of the impacts concrete waste has on the environment, and how efficiently it can be recycled instead, you can enlighten your friends, family, neighbors, and community on doing the same.
Many individuals are unaware that concrete can be recycled or aren't caught up on the environmental impact concrete waste has.
Encourage your network to take active steps to recycle concrete, volunteer with your local organization, and stay up-to-date on the latest resources relevant to the cause.
You can also generate positive impacts by reusing and purchasing recycled concrete yourself for household construction projects or asking your contractors to use recycled concrete when installing a new driveway, walkway, patio, porch, or deck.
Now, let's take a look at some of the places you can efficiently recycle your unwanted concrete and where you can encourage others to do the same.
7 Places To Recycle Old Concrete
So, now to the actual list of places to take your old concrete to be recycled.
Construction Company, Warehouse, Factory, or Facility
Local construction companies, warehouses, factories, and facilities are often in need of building items, such as concrete, because they're vital in their daily work.
Concrete can be taken to construction companies, warehouses, factories, or facilities for recycling because it can readily be used in ongoing or future building projects.
Concrete is also used as a reinforcement material for existing structures.
Construction companies will have a better understanding of how to use those smaller concrete sections to enhance a particular structure for either residential or commercial buildings.
Concrete Contractors or Masons
Depending on how the concrete is recycled, concrete contractors and masons can also reuse concrete for their building projects.
Both concrete contractors and masons specialize in installing secure surfaces and structures and can easily incorporate recycled concrete into their techniques or use it as a binding mixture for other construction projects.
Recycled concrete can easily be used for other construction projects and can even be ground finely to serve as gravel and re-installed into driveway and patios.
By recycling your concrete with local concrete contractors or masons, you're also giving back to smaller businesses within your city, which can significantly help any contractor reduce supply costs to fulfill their projects.
Local Building Supplies Retailer
Ring up your local building supplies retailer and ask if they've got room for your extra concrete.
Many of these suppliers also order and deliver building materials for local contractors, so it's not uncommon for them to need excessive concrete to fulfill those material demands.
Many local building suppliers provide concrete in bulk, so the more concrete you can recycle with them, the better, as it'll likely get ordered quickly for upcoming construction projects.
Local building suppliers may offer recycled concrete at discounted prices, which can boost business sales and revenue, providing another great way to give back to the community.
Junk Hauling Company
If you aren't having any luck finding a construction company, concrete contractor, or local supplier, then consider turning to your community junk hauling company.
Junk hauling companies come ready with large disposal containers that are durable enough to hold large amounts of concrete and make it convenient to get rid of it all in one sitting.
Junk haulers are well-connected to many concrete companies, contractors, and suppliers and will be able to connect you with one if that's where you wish your concrete to go.
Check with your chosen junk hauler ahead of time and verify the concrete recycling methods or recycling facilities they use before scheduling your concrete's pick up.
Nonprofits and Charities
Many nonprofits and charities are willing to take recycled concrete and reuse it for their projects or facilities.
Some home-building charities and community organizations will take construction materials to offset the initial costs of purchasing those same materials directly from suppliers.
When charities are working on limited budgets to maximize their resources, your donation could substantially contribute to their projects' success.
You can also check out your local animal shelters and rescues, as concrete is often needed to build nature habitats, boarding facilities, and easy-to-maintain surfaces for the range of animals they're rescuing.
Landscaping Companies
Concrete is a popular material used in the landscaping industry because of its natural aesthetic and versatility.
It's heat-proof and UV-resistant, making it perfect for outdoor projects that encounter both of those elements.
Landscapers may often use recycled concrete to build new retaining walls, footpaths, walkways, and planting structures for outdoor greenery.
Old concrete can also make for a great fire pit or outdoor fireplace, as well as tree planters, dividers, and ground into aggregates as a secure way to prevent flooding and erosion.
Recycled concrete offers the perfect textures and structures for custom hardscapes, elevated and textured flowerbeds, and adds structure to your lawn's irrigation system.
Specialty Concrete Recycling Facility
Finally, the best place to take your concrete for recycling is a specialty concrete recycling facility. These facilities are designed for recycling all types of concrete and having the necessary tools to make the concrete reusable for a variety of projects.
Taking your old concrete to a concrete recycling facility is the safest and most efficient way to recycle your concrete correctly.
Many recycling facilities also operate as mobile outlets and can bring their services directly to you for convenience.
When scheduling your concrete to be recycled, always inquire about the possibility of mobile recycling to make your job a bit simpler.
The EPA has consolidated its own list of national recycling organizations where construction and demolition materials can be safely recycled, should any of these outlets or locations be within proximity to you.
Check the organizations to ensure they accept concrete for recycling. 
Conclusion
Recycling concrete has never been easier or more necessary. Now that you know where you can take your old or damaged concrete, you can sustainably contribute to your community's betterment and the environment. 
When you decide to recycle concrete, instead of disposing of it, you're doing much more than leaving an eco-friendly impact; you're also lowering the costs of construction projects and efficiently enhancing the concrete industry as a whole.
Next time you're thinking of tossing that unwanted concrete, think of the difference you'll make by recycling it instead.